KAMP moves to gather support for FCC proposal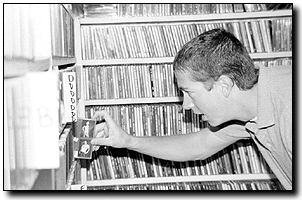 Randy Metcalf
Arizona Daily Wildcat

Journalism senior Justin Clifton, KAMP student radio's general manager, is trying to get an FM station so they can reach more people across Tucson. In mid-March, all the dorms on campus will have KAMP radio through campus cable television.


KAMP Student Radio last week started trumping up support for an FCC proposal that would allow some smaller stations to get on the FM dial.

The roughly 200 members of KAMP have started circulating petitions and wooing state, administrative and Associated Students' advocacy for the governmental proposal, said Justin Clifton, KAMP's general manager.

"Our goal is to educate as many people as we can about low-power FM and gain support," Clifton said, adding that the group aims to gather about 2,500 signatures.

The Federal Communications Commission is holding a 60-day comment period, ending April 12, allowing public response to the proposal giving smaller stations a chance to obtain a 100 to 1,000-watt FM station.

The group aims to gather at least 2,500 signatures to expand KAMP's current broadcasting power, which is one-fifteenth of one watt, said Clifton, a journalism senior.

"It is not powerful enough for any modern radios to pick up," he added.

A radius of about nine miles around campus may be able to hear the music if KAMP is successful in obtaining a low power FM station, Clifton said.

"That would be a tremendous boost to our listenership," he said.

In December, the student-run radio station tried to get an FM station but was unable because of a lack of dial space.

The on-campus classical and jazz radio station, KUAT, supported KAMP when the members tried to obtain a FM station, said Jack Parris, KUAT's interim general manager.

"We do support KAMP and their efforts," Parris said. "We have done that in the past and we will do that in the future."

Parris added, however, that he would not be able to support interference with existing stations.

Regardless of the outcome on the federal level, KAMP will still broadcast via the Internet at http://kamp.arizona.edu, Clifton said.

"We don't plan on abandoning any goals we reached thus far," he said. "Right now we're thinking how we can best service students as a radio station."

The student-run radio station is also planning to broadcast in dorm rooms via campus television's cable channel three, Clifton said. The premier date is still up in the air because all equipment and kick-off arrangements remain unsettled.

KAMP members hope to gain about 6,000 more listeners with their TV broadcast.

"Right now we're thinking how we can best service students as a radio station," Clifton said.

He added that KAMP will also try to encourage station managers at other universities to support the FCC proposal.

Clifton said KAMP, which is funded by an optional $1 per semester student fee, would need to purchase more equipment if it eventually secures a FM station. He said he was unaware of how much that would cost at this time.

Chip West, Arizona Student Media's student radio coordinator, said the possibility that KAMP may be able to broadcast through the FM dial is promising.

"It's a hope - (it's) better than nothing," West said.
---