Griffith the unsung hero in Arizona win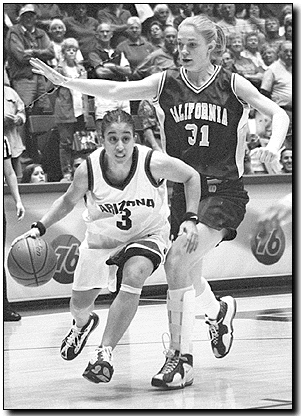 Eric M. Jukelevics
Arizona Daily Wildcat

Junior guard Lisa Griffith (3) drives toward the hoop against a Cal player Thursday night. Griffith only scored seven points but was called the game MVP in Saturday's 81-67 win over Stanford.


When the UA women's basketball team gathered in the locker room and sang "Bear Down, Arizona" after Saturday afternoon's 81-67 win over Stanford, it didn't really matter who led the team in scoring or rebounding.

The important thing was the team had won a big game, moving closer to a berth in the NCAA Tournament.

"It was a must-win game and we knew that as a staff," assistant coach Denise Dove said. "The players knew the importance of the game, but we didn't want to put any extra pressure on them."

While Elizabeth Pickney led the team with 18 points and six rebounds, it was her 12 of 13 shooting from the free throw line that made the difference. That was the same with Angela Lackey, who went 6 of 6 from the line and scored 16 points.

"I just felt that their post was doing a good job playing defense," Pickney said. "I just tried to be more aggressive and get to the line."

Even though Lisa Griffith only had seven points, she was called everything from game MVP to unsung hero for the Wildcats.

"Lisa played a perfect game," head coach Joan Bonvicini said.

Dove agreed.

"Lisa played a phenomenal game," Dove said. "She controlled everything on the floor, and the players feed off her. She was the MVP of the game."

Felecity Willis played a great game, scoring 12 points and getting four rebounds, but perhaps her role in the transition game was the most important.

"Defensively, we pressed the whole game," she said. "Offensively, we weren't tentative and created easy shots and layups."

Arizona made a defensive adjustment in the second half, moving to a diamond-and-one defense to cool off Stanford freshman Lindsey Yamasaki, who had 28 points on 8 of 9 three-point shooting.

"They did a great job adjusting to it," assistant coach Karen Caires said. "It's a compliment to Reshea Bristol and her quickness and the improvements she's made defensively. She put the gloves on and covered her well."

The team won't have much time to enjoy the victory, as the players went back to work Monday afternoon, focusing on rebounding.

"This game was a great uplift, now we got to worry about USC and UCLA," Willis said.

Arizona (16-9, 11-5 Pacific 10 Conference) remains in fourth place in the conference, a game behind Stanford in the standings. With games at Southern Cal and UCLA this weekend, the Wildcats aren't taking anything for granted.

"Once we won on Saturday, I was definitely looking forward to this weekend," Bonvicini said. "We just need a few more wins. There are no guarantees, even with our great strength of schedule."

After a difficult period at the beginning of the season, Arizona is now on a roll, winning nine of its last 11. They have been focusing on winning each half of the game, and the short-term goal has paid off. Arizona is 13-0 when leading at halftime.

"This was definitely another step towards us playing a complete team game," Caires said. "Right now, our foundation has been built by us concentrating on each half."