The Century: Against the odds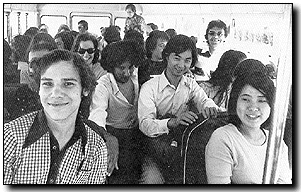 Photo Courtesy of The 1976 Desert Yearbook
Arizona Daily Wildcat

Members of the Alpha Phi Alpha house belonged to the first black fraternity at the UA. Hispanic and black students had very little connection to the greek system until the early 1970s.


Johnny Bowens recalls the sense of immediacy that caused UA minorities and student leaders to balk at the university system in the early 1970s.

"It was an emotionally, politically-charged environment with everybody making demands on the administration from every direction," said Bowens, a black alum who graduated in 1973.

As a founding member of the Black Student Union, he pushed University of Arizona officials for more black faculty, recruitment of minority students, a contemporary curriculum and general acceptance.

Alliances with Hispanic and anti-war movements brought the civil rights movement to the UA campus in the form of demonstration, talks and conversations.

Bowens said protests were "a matter of bringing to their (administrators') attention that there was a section of the student body being neglected.
Editor's note
The Century
1999, the turn of the century and the millennium will be a worldwide year of historical reflection and celebration. The Arizona Daily Wildcat today features the fourth in an occasional series of stories examining the events that shaped the University of Arizona community.

"It was a public display of our displeasure for the university's lack of sensitivity in not addressing the needs of the African American student."

Many ethnic minorities on the UA campus during the middle of the 20th century felt insignificant, socially ostracized and even unwanted.

Federal laws and social attitudes kept some minority students from being recognized while they were on campus during the earlier part of the century. Part of the problem was also numbers.

Very few minority students attended the UA during the 1940s to 1970s. Exactly how few remains a mystery. Because of record-keeping practices, not many institutional statistics exist with a ethnicity breakdown.

The U.S. did not require schools to include a significant breakdown of ethnic background during this time. Many Hispanic students were lumped into a 'Spanish speaking/Spanish surname' category until the early 1970s, and Native Americans were not given the opportunity to signify tribal affiliation until the early 1990s.

Many of the minority students that attended the UA during the 1940s to 1970s faced additional challenges and obstacles. These hindrances were not necessarily unique to the UA or Tucson, but they existed.

It was these experiences, as well as a lack of support from the university, that eventually pushed some of the students involved to make a claim for the respect and recognition this portion of the university community lacked for so long.
University Life

Photo Courtesy of the 1960 Desert Yearbook
Arizona Daily Wildcat
UA fans get autographs from then senior basketball player Ernie McCray, who broke 12 school records and was inducted to the UA Sports Hall of Fame in 1980. McCray, who said he was expected to accept what the professors said and to not ask questions, was only the second black student at the UA to receive a basketball scholarship.
The UA never had an official segregation policy. However, the lack of support some minority groups said they received from university administrators during that time made it difficult to acclimate to campus life.
"(Richard) Harvill was president and he didn't have an open-door policy," said Richard Davis, a black UA alum who graduated in 1969. "There was no avenue to get the ear of the top administrator. Even if we could get an audience, no one was interested in what we would say."
The missing links for minority students were orientation seminars, support groups and mentors that understood the impoverished backgrounds of some minority students, Davis said. They also wanted more minority faculty members and administrators on campus.
Missing pieces like these led to various protests by the Black Student Union in 1970 - one year after it was formed.
Minorities also faced the difficulty of having a small population that lacked support groups from the 1940s to the 1970s. To alleviate the problem, Hispanic students formed Los Universatarios in the mid 1950s.
"The name was in Spanish, so it gave us immediate identity," said Diego Navarrette, a Hispanic alum who graduated in 1960. "With it, we had our own social group, a place to go so we could commiserate and get support."
Coupled with a general lack of administrative support, some minority students experienced what they felt was discrimination.
Most of the problems came as a spill over from the City of Tucson, which was still partially segregated in the mid-1950s. At that time, blacks could not eat at restaurants, stay at some hotels or purchase land in certain neighborhoods.
Ernest McCray, a black UA alum who graduated in 1960, said he remembers peoples' stares as he and two black friends carried white women on their shoulders as part of a fraternity relay race.
"People were breathing heavy and turning red," said McCray, who played basketball and was inducted into the UA Sports Hall of Fame in 1980. "It was an 100-degree day and it quickly changed to 30 degrees."
McCray, who grew up in Tucson, said the UA was very different overall from the rioting South, and his experience at the relay race was typical of his entire college experience.
"Tucson wasn't a place where people would call you a nigger," he said. "It was more the red faces. You could see you made them uncomfortable."
Some minority students did not experience any racism on campus, but had their fill outside the campus perimeter.
Esther Tang, a Chinese alum from 1942, said she was treated fairly until the school week was finished.
"There were no restrictions on what club you belonged to," Tang said. "But if the parents gave a party for their kids, they wouldn't invite me."
The Classroom
The small confines of the classroom did not guarantee minority students less conflict.
"I learned early on that if I sat in the front of the room, the prof looked over my head and that meant I was safe," said Alice Paul, a 1958 UA alum who is a member of the Tohono O'odham Nation. "You never knew what some people would say and some things may have been derogatory."
Paul said she quickly learned the best way to avoid sneers from other students. Besides remaining quiet during class, Paul initiated her communications with teachers in written form until she felt comfortable enough to speak out loud.
Other forms of subtle classroom racism were sometimes difficult to combat, Navarrette said.
He said some professors determined a student's educational path and ability to succeed by their background.
"Racism was covert because of the programs one was either recruited for or asked to participate in," Navarrette said. "I was Spanish speaking so people figured I would teach Spanish. When I majored in English, it raised eyebrows. There were no other brown faces there."
Navarrette said some instructors also made it obvious who they wanted in their classes.
Some students were encouraged to contribute in class, give reports and even interrupt others. Navarrette said that happened infrequently with him, even though he was a good student that went on to earn a masters degree.
"If you raise your hand and don't get called on enough times, you don't want to look the fool, so you stop," he said.
McCray said even though concepts introduced in class directly related to his personal experiences, some instructors did not allow him to incorporate them into discussion.
He was involved in a group called Students for Equality, which went to Tucson City Council meetings to request that black citizens be allowed to buy houses in all neighborhoods and eat in all Tucson restaurants. It went on during a time when he was discussing Apartheid in class.
"Teachers told us, 'that isn't relevant,'" McCray said. "But looking back in retrospect, nothing about the black experience was ever discussed, almost like the blacks and Latinos didn't exist. The omission was indicative of the times."