Aguilar gunning for highest ASUA post
Correction
Due to an editing error, a photo caption on page 12 of yesterday's Arizona Daily Wildcat incorrectly stated ASUA presidential candidate Cisco Aguilar's activity. Aguilar was photocopying Senate agendas. The Wildcat regrets the error.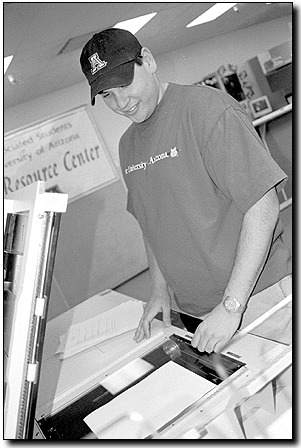 Leigh-Anne Brown
Arizona Daily Wildcat

Finance and accounting senior Cisco Aguilar runs off last minute copies of his election materials in the ASUA office. The results of the election will be announced tomorrow night at 10 p.m.


ASUA presidential candidate Cisco Aguilar has climbed his way up the ladder, and he's ready to reach the top rung.

But Aguilar, the Associated Students' executive vice president and former senator, said he wants to make some significant changes in the student government organization he has been involved in for two years.

"I want the opportunity to do what's right," Aguilar said Sunday. "People up there (in ASUA) are really scared of change, but I think change is positive."

While Aguilar has not detailed adjustments that he plans to make within the ASUA Senate, he said something must be done to increase accountability.

"There's so many different possibilities that we're going to have to sit down and narrow it down," he said.

Making changes means that Aguilar must first face off against University Activities Board President Caitlein Ryan in this year's general election, which starts today.
Where It's At
Polling stations are open today and tomorrow from 9-6. Stations are located at the Student Recreation Center, Park Student Union, Harvill Building and the Old Chemistry Building. Students need their CatCards to cast a vote.

During last week's primary election, Aguilar crushed Ryan and finance junior Greg Kugler, garnering 722 votes. Ryan's campaign resulted in 363 votes, while Kugler was eliminated with 269.

Aguilar said yesterday that his overwhelming success in the primary does not necessarily guarantee a presidential win.

"I have to keep working hard," he said. "You never know what's going to happen in the general election."

Aguilar's platform includes several major changes to ASUA, along with promises to fix campus problems like childcare subsidies.

One adjustment Aguilar plans to make could ruffle some ASUA officials' feathers.

In response to student complaints about high textbook prices at the University of Arizona Associated Students Bookstore, the presidential candidate has offered to donate a portion of ASUA's funding so that prices can be reduced.

"Textbooks are a necessity and students need to get those at the best rates," Aguilar said.

Using a part of the funds that the UA administration annually forks over, Aguilar will renegotiate the Bookstore's contract to allow its officials to lower prices on essential academic items like books.

Aguilar also said ASUA President Tara Taylor has not sufficiently linked herself with the other ASUA executive and officials.

"Tara has not really made a connection between the two of us," said Aguilar, a finance and accounting senior.

But Aguilar and Taylor, along with ASUA Sen. Josue Limon, have worked collectively to increase the subsidy granted to student parents for childcare, he said.

While they're attempts failed last month after UA President Peter Likins declined to acknowledge an ASUA resolution and increase the funding by $138,000, Aguilar vows to resume the battle.

"It's a hard priority and it's something that he's (Likins) going to deal with shortly," he said.

ASUA Sens. Emily Dunn and Ferdie Echiverri have voiced their support for Aguilar. Both said they hope the presidential candidate will continue to reach out to students.
---

| | |
| --- | --- |
| | ASUA's Web site has an elections link that contains voting information and profiles of the candidates. |