UA set to face D-backs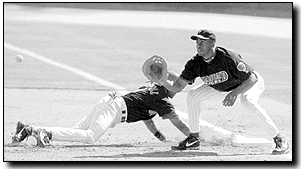 Associated Press
Arizona Daily Wildcat

Arizona Diamondback Desi Wilson awaits the throw at first base in an attempted pick-off play of Dante Powell in the first intrasquard game at Tucson Electric Park in Tucson, Ariz., Monday.


Arizona Diamondbacks manager Buck Showalter said last year he would like to play the Arizona baseball team some day.

"Maybe one day when we're a little better," Showalter said before the Wildcats' 1998 All-Pro Alumni Game, where he was the guest manager.

Showalter's Diamondbacks went out and spent over $100 million on the free agent market, so now they appear to be "good enough" to face UA. The pros and the college kids will face each other today at Tucson Electric Park at 1 p.m.

"It's going to be awesome," UA freshman left-hander Brian Pemble said. "It's just another great opportunity for us."

With the Wildcats coming off two tough losses to archrival Arizona State, head coach Jerry Stitt and the players agreed the exhibition game would be a great learning experience.
Tickets
The UA Sports Marketing Association will be selling 400 tickets to the game today on the Mall from 9 a.m. onward. The tickets will cost $5 and include a bus ride from Old Main to TEP. The seats will be on the grass lawn beyond the outfield. There will be continuous bus service from TEP to campus from 1-5 p.m.

"I guess it would be fun," Stitt said. "But playing hard and staying focused are fun for me."

Stitt said the Wildcats are executing well, but staying focused has been a problem for the young team.

The focus will be the man on the mound for the Diamondbacks, 6-foot-10 All-Star left-hander Randy Johnson.

Johnson will pitch the first two innings of the game, which opens preseason play for the Diamondbacks.

"I'm really anxious to do it," UA sophomore shortstop Keoni DeRenne said in regards to facing Johnson. "I know he's not going to be 100 percent yet, but it'll still be a great thrill, a real rush just to get the chance.

"He's the best pitcher in baseball. If I get a hit or even if he strikes me out I'll always remember (the moment)."

Junior outfielder Rafell Jones said that while he'd like to face Johnson, even being on the field when Johnson pitches will suffice.

"You'll never see anything as fast," he said. "Whether you're at the plate or on the field, you'll never see anyone throw that hard."

Stitt said he's not expecting too much from the Diamondbacks' ace.

"He's just working on his rhythm right now," Stitt said. "He might give up a few hits or he might strike out the world."

Stitt said freshman Ben Diggins, UA's tallest player at 6-6, could get the start, but nothing had been formally decided as of yesterday. Pemble said the coaches had talked about having one person pitch per inning.

As fun as it could be, Jones said the Wildcats will be all business once the game starts.

"As a team that's stumbled a bit and needs to get back on track, we have to look at this game as another opportunity to improve ourselves," he said.

While the hitters face Johnson, the pitchers won't have an easy time, either, facing such players as Travis Lee, Steve Finley, Jay Bell and Matt Williams.

"I'd bust him inside with a fastball," Pemble said of Williams if he gets the chance to face the All-Star third baseman.

Pemble then added, "I'd probably be turning my head around right after that."