Terry a finalist for Wooden Award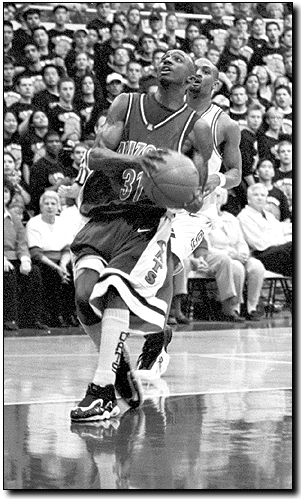 Tanith L. Balaban
Arizona Daily Wildcat

Senior point guard Jason Terry (31) goes for a layup against the Stanford Cardinal on Saturday at Maples Pavilion. Terry was named one of 17 finalists for the John R. Wooden Award Monday.


Despite coming off the worst shooting weekend of his career, UA men's basketball senior point guard Jason Terry was named Monday as one of 17 finalists for The John R. Wooden Award for the national college basketball player of the year.

Terry, who shot a combined 12 for 43 from the field in the Wildcats' two losses to California and Stanford over the weekend, is joined on the final list by three other Pacific 10 Conference players in UCLA's Baron Davis and Stanford's Arthur Lee and Mark Madsen.

The only other conference with four nominees is the Big East, with Khalid El-Amin and Richard Hamilton from Connecticut, Ron Artest from St. John's and Miami's Tim James.

While Terry seems like a longshot after his recent struggles, especially considering Duke's Elton Brand has averaged 20.5 points and 13 rebounds over his last four games, Terry said his chances would greatly improve if the Wildcats were able to make a run deep into the NCAA Tournament.

"Hopefully with a great tournament run, I can pull one of those (awards) down," said Terry, who is also a finalist for the Naismith Player of the Year Award and the U.S. Basketball Writer's Association Player of the Year Award. "But you have to win to get them."

UA head coach Lute Olson agreed that Terry still has a chance for the awards, but added that outside of the Wildcats' performance, Terry himself would have to shine on the national stage.

"Most of those are decided as the tournament goes on," Olson said. "He is definitely in contention for some of those right now. Whether he'll end up being one will depend on his play."

Terry will get a little more national recognition tonight when he appears as a guest on Jim Rome's "The Last Word" along with Arkansas head coach Nolan Richardson. The show will originally air at 6:30 p.m. on FOX Sports Arizona, then be reshown at Midnight and then again at Noon tomorrow.

The list of finalists will be pared to the 10-member John R. Wooden All-American team March 23, four days before the Final Four. The winner will be announced on a nationally-televised ceremony April 2.

Just where Terry and the Wildcats will play in the tournament is still in doubt after the weekend losses, but the players and coaches said they didn't really think or care about the location.

"I don't care where we go," senior center A.J. Bramlett said. "If they keep us in the West, we'll go there. If they send us somewhere else, we'll go do great there."

While Olson pointed out it is useless trying to predict what the NCAA selection committee will announce Sunday afternoon, some locations seem more likely than others.

With an Ratings Percentage Index of 18 and a No. 13 ranking in the latest AP poll, it seems the Wildcats would be destined for a four seed as long as they don't lose to Southern Cal or UCLA this weekend at home.

In the 1990s, Arizona has only been sent out of the West Regional three times, going to the South (then called the Southeast) in 1992, the Midwest in 1995 and the South again in 1997, when they won the National Championship as a four seed.

If they were to garner a four or five seed, they would be sent to Orlando, Fla., for the South Regional, Denver in the West, Charlotte, N.C., in the East or Milwaukee in the Midwest.

If, however, the Wildcats were to jump to a third seed by blowing out UCLA or drop to a sixth seed by losing to either the Bruins or Trojans, they would go to Indianapolis (South Regional), Seattle (West), Boston (East) or New Orleans (Midwest).

While taking the team philosophy of winning is more important than location, junior forward Eugene Edgerson said he would love to play in New Orleans.

"I wouldn't mind going to my hometown and playing in front of my people and my family," Edgerson said. "But the big deal is that we have to win."

Seth Doria can be reached at Seth.Doria@wildcat.arizona.edu.