UA Mall taken over by Pepsi promotion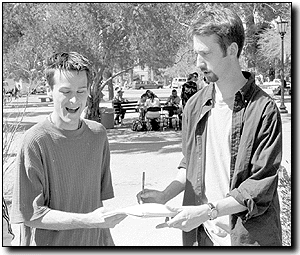 Ian Mayer
Arizona Daily Wildcat

Science sophomore Toby Rohmer (left) gets an autograph from Tom Green yesterday outside Old Main. Tom Green of "The Tom Green Show" was on campus to interview students for his show on MTV and to film a Final Four commercial for Pepsi.


MTV late-night variety show-host Tom Green captured 400 UA students' faces on film yesterday while filming a commercial for Pepsi Cola.

"They're great, except one skateboarder spat Coke in my face," Green said, adding that he poured soda on the person's head first. "It was good though."

Green, of MTV's "Tom Green Show," will also interview college students at other campuses including Duke and Syracuse, said Pepsi spokesman Dave DeCecco.

"I dig Tom Green," said communication freshman Jeff Markham. "He doesn't care who he offends. He does his own thing."

Pepsi offered the crowd of about 400 students $5 each for cheering and chanting "we're number one," and "Pepsi is number one."

After the commercial shoot was over, Green taped a segment for his show, which airs on Mondays at 10:30 p.m., in which he ended up in the fountain behind Old Main with two female students.

Pepsi officials videotaped UA students because Stanford University officials said they could not accommodate the beverage-maker's promotion, said Dale Bramwell, a BBDO advertising agency producer.

The students who gathered around Green yesterday have a chance to be in a commercial aired starting Monday and running through the NCAA Tournament, DeCecco said. He would not disclose students' odds of getting on TV.

"There is a chance, but we won't know until we see the footage from all the schools," DeCecco said.

Green said he was impressed with the students' knowledge of his show, which was picked up by MTV after being on cable access in Green's hometown of Ottowa, Canada.

"I didn't realize Arizona got MTV," Green said with a smirk. "I was a little surprised how many knew the show."