Tucson youth need volunteers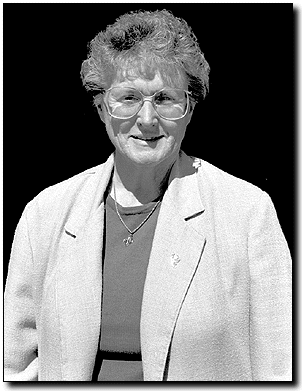 Wildcat File Photo
Arizona Daily Wildcat

Director of Project YES, Sister Charlotte Swift, has been with the program that helps tutor and mentor Tucson children since 1987. Three Greek organizations, Gamma Alpha Omega, Kappa Delta Chi and Omega Delta Phi, help Project YES with fundraisers and finding volunteers.


UA student Alex Rios said it doesn't matter how hard Project Yes volunteers try to stay cool, because the children in the program begin to grow on them.

"It makes you feel good about yourself," he said. "You have fun doing it."

Rios is one of 12 students who regularly volunteer in the youth program at South Tucson's Project Yes, 100 W. 37th St.

But the program needs more University of Arizona students to help at- risk youth with school work and act as role models, said Sister Anne Swift, the program director since 1987.

"We're always looking for new volunteers," she said. "The UA has a large group of students that don't know we exist."

Three Greek organizations, Gamma Alpha Omega, Kappa Delta Chi and Omega Delta Phi, assist the program by holding fund-raisers and providing volunteers.

"You don't have to be an education major - anyone who wants to help (can help the program,)" said Rios, president of the Interfraternity Council. "Anyone with an hour to help, two hours to help."

In a given day, 80 to 85 at-risk children read, eat and frolic at Project Yes' playgrounds.

Armando Valenzuela, UA coordinator of Hispano/Chicano student programs, said Project Yes works as a retention unit in a part of town with high drop-out rates, drug use and gang activity.

Valenzuela said the purpose of the program is to bring students back to education, attacking illiteracy and gang activity.

Volunteers aim to "attack all social aspects that affect students," said Valenzuela, who volunteers in Project Yes' "Parent to Parent" program.

The program has had its share of financial troubles. The project moved three times, to locations including a warehouse and an old radio station, before receiving a new facility from Angel Charity for Children Inc. in 1994.

When the program was located in the warehouse, the children had little room for recreation and had to play in the parking lot, she said.

Project Yes was on the verge of closing two times. Both instances, it barely received funding in order to keep its doors open.

"We kind of live from miracle to miracle," Sister Swift said.

Kappa Delta Chi sorority assists Project Yes with its annual scholarship fund-raiser dinner in April.

"Fraternities and sororities adopted us in some sense," Sister Swift said.

While the program has four full-time employees and 16 part-time workers, there is still a need for volunteers to assist with high school students as playground supervisors and indoor supervisors.

"If you help one kid, it would be worth it," Sister Swift said.