Festival of groovy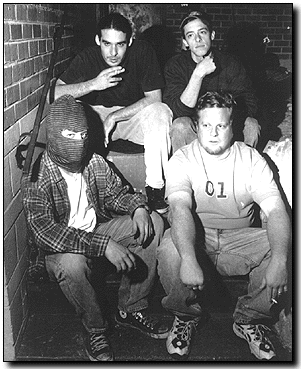 Wildcat File Photo
Arizona Daily Wildcat

Spacefish knows it's groovy to hang out in stairwells. Learn this and other groove tips at Groovefest at the Rialto Theatre on Saturday.


With the recent inundation of "groove" related product in the local band scene of late, it is amazing that the word still has any relevance. If "groove" was a natural resource, it would have run dry long before the greenhouse effect was even a headline. Regardless of its overuse, the Rialto Theatre presents "Groove Fest," a night of funky, jazzy sounds featuring Gila Monsters, Greyhound Soul, Spacefish and Funky Bonz. These four bands share a common theme; they are still painfully close to the realities of local band life and yet so close to making it. All hailing from Tucson (with the exception of the LA-based Gila Monsters), these bands have been climbing out of the local-garage pit and into the music industry.

Five from Cali, known to their fans as "Gila Monsters," have taken the spirit of that humid land of New Orleans and dried it off in the desert. As frontman, Paul Perme describes their sound as "funkified party music, drawing directly from the New Orleans second-line beat. Nonetheless, Perme, along with guitarist Charlie Bragg, percussionist Wendy Colton, bassist Javier Willis and sax man RH Factor will attempt to bring the party to you. With egos in full effect, these five have no modesty about proclaiming themselves the best. It was this attitude that brought Perme and Bragg together. Each proclaimed themselves the grandest tiger in the land. One gave the other a listen and they must have agreed as the two egotists formed the Gila Monsters.

While Spacefish sports many of the same adjectives as the Gila Monsters, including "funky," "jazzy," "groovy" and "hot," their story is very different. The band was formed when ex-con and guitarist Jim Vancza teamed up with the wrongfully accused Bill Richardson, now drummer of Spacefish. Yet despite this tainted past, their music is untainted, even light-hearted at times. Their song "Orgasmatron" from their album "Olmec" goes so far as to poke fun at Rush Limbaugh proclaiming, "Saw Rush Limbaugh on the Playboy Channel. He was pale and hairy and starting a fight." Truth in music - as Limbaugh is in fact pale and hairy AND starts many moral fights. Opening for such bands as Dread Zeppelin, Widespread Panic and The Refreshments, this Tucson band is well appreciated for its humor, jazz improv abilities and unique blend of genres.

Funky Bonz, as one can imagine, is funky. Inspired by such funk legends as George Clinton and all his P-Funkers, Funky Bonz is one septet not to shake a stick at. These six bring more to the stage than mere music. They bring showmanship that so many bands seem to forget. In addition to stage presence and danceable beats, the crew often add costume changes and props to their shows. Their sense of creativity and humor is expressed in such song titles as "Cherry Pop Tart" and "Gospel According to Shakespeare." They also pay tribute to the late, great Dr. Seuss with songs "Green Eggs and Ham" and "Lorax." All in all, Funky Bonz is out to party.

Just where, exactly, Greyhound Soul got their name is a question every drunken frat boy has asked as they traverse Fourth Avenue, inevitably seeing this band's icon at one bar or another. Yes, these five have played about every bar along Fourth that sports a stage. Their name has graced dozens of signs as their country-edged rock and roll has rolled along Tucson's streets. But there was one sign, in the summer of '94, that had nothing to do with country, rock, or roll. Yet it has profoundly influenced this band since. The Greyhound bus sign downtown had been vandalized to read "Greyhound soul." With this sign, accidental inspiration found the five and a name was born: Greyhound Soul.

So, March 6 at 8 p.m., Rialto's Groove Fest promises funk, rock, and enough "groove" to choke a horse. All this for only $5. You'll have to excuse me now as I have to resuscitate my horse.