Aguilar grabs top spot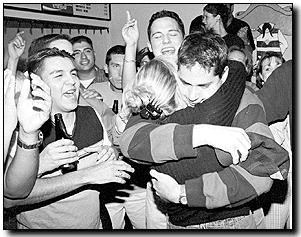 Eric M. Jukelevics
Arizona Daily Wildcat

Current ASUA Executive Vice President Cisco Aguilar celebrates his win against Caitlein Ryan for the presidency last night at Taco Bron. Cisco won on a platform of the childcare funding problems and decreasing textbook prices at the UA Associated Students Bookstore.


ASUA presidential candidate Cisco Aguilar last night garnered the organization's top position, defeating opponent Caitlein Ryan with almost twice as many votes.

Aguilar, a finance and accounting senior, received 1,016 votes, beating Ryan by more than 400 votes after an election with the second-lowest voter turnout in 10 years.

"I'm really happy," Aguilar said. "I think this is going to be the toughest year ever for an ASUA president."
Poll Results
PRESIDENT

Cisco Aguilar         62%
Caitlein Ryan         36%
Write-In               2%

EXECUTIVE Vice Prez

Ben Graff             94%
Write-In               6%

ADMIN. VICE PREZ

Viviane Safrin        92%
Write-In               8%

Senate

Dwight Maloney      9.64%
Shane Brogan        8.89%
Ryan Roa            8.38%
Lauren Beth Hickey  7.64%
Michael Dobbs       7.59%
Ray Quintero        7.21%
Julie Burkhart      7.03%
Amanda Martin        6.4%
Tiffany Podbielski  6.13%
Ahmad Sa'ad Nasim   5.74%
Sam McConnell IV    5.44%
Sam Bezek           5.41%
Nicholas Nelson     4.82%
Scott Lavit         4.34%
Erik Mullner        3.62%
Write-In            1.72%

The results were announced at 10:30 p.m. last night in front of about 100 spectators at Taco Bron, 831 N. Park Ave. The crowd split the room down the center, separating Ryan's and Aguilar's supporters.

The celebration began as the final presidential race numbers were announced. Aguilar's friends mobbed him, tousling his hair and screaming in his face.

But the evening was marred by the announcement that five percent of University of Arizona students voted in the two-day elections that began Wednesday.

Associated Students Elections Commissioner Anthony Hill told the newly-elected officials that he was displeased with their campaigns.

"Some of the candidates did a horrible job campaigning," Hill told the packed room. "I'm ashamed of the fact they won office."

Hill declined to disclose the names of disappointing candidates.

Aguilar, the current ASUA executive vice president and former senator, said he is committed to healing the organization's image.

"I have a lot of work to do," Aguilar said.

Ryan, who ended her presidential bid with 592 votes, said she was disappointed in UA students.

"It's frustrating to see the student body vote in the same government after they had such a problem with it," said Ryan, former University Activities Board president and theater arts junior. "Cisco's held office before. People know his name."

The evening held no surprises for ASUA Sen. Ben Graff, who ran unopposed for the executive vice president position.

"I feel very encouraged," he said.

Graff said his uncontested candidacy has allowed additional time for preliminary work on a plan that would increase ASUA Senate accountability.

"I've been talking to a lot of people, especially Senate candidates," he said. "It's been really exciting that a lot of people are in favor of it."

ASUA Community Development Director Viviane Safrin, who ran unopposed for the position of administrative vice president, said she was pleased with her campaign.

"It got off to a rocky start (until) people realized I was a good candidate and I have a lot of good ideas," Safrin said. "I can't wait to get into the office."

Among ASUA Senate candidates, business management freshman Dwight Maloney led the pack with 762 votes.

Maloney was followed by retailing and consumer studies junior Shane Brogan with 703 votes, biochemistry senior Ryan Roa with 663, molecular and cellular biology sophomore Lauren Beth Hickey with 604 and molecular and cellular biology junior Michael Dobbs with 600.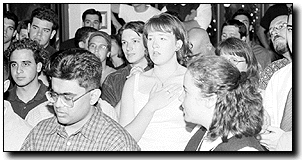 J. Holmes/
Arizona Daily Wildcat

Theater arts junior Caitlein Ryan (second from left) shows anticipation before the reading of ASUA election results last night at Taco Bron on Park Ave. Ryan lost to Cisco Aguilar; she had 592 votes out of 1,704 total votes.

"It's kind of unexpected," Maloney said of his victory. "I was hoping for top five. I'm thrilled."

Hickey, who secured the top spot in last week's primary election, said she was "very excited" about her success.

"I am looking so forward to doing everything I can," Hickey said.

Outgoing ASUA President Tara Taylor said she had a message for newly-elected officials who ran less-than-enthusiastic campaigns.

"I really hope they realize this is the easiest part," Taylor said.

Taylor said she will be happy to turn over her office to Aguilar in May.

"I think he'll do a wonderful job," she said.

Ryan, who will not return as UAB president next year, said she supports Aguilar's presidency.

"It's time for me to get behind Cisco," she said.