Southside fourth-grade students working toward free UA tuition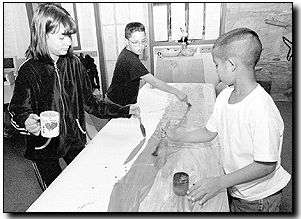 Kristy Mangos
Arizona Daily Wildcat

(Left to right) Fourth graders Annette Torres, 10, Tommy Castillo, 10, and Ralph Felix, 9, paint a sunset during class at C.E. Rose Elementary School yesterday. The class was awarded free tuition to the UA last year by President Peter Likins if they graduate from high school and meet the university's admissions standards.


Ten-year-old Francisco Salcido dreams of being an astronaut.

Thanks to a University of Arizona scholarship program created last year, the C.E. Rose Elementary School fourth-grader just may get his wish.

UA President Peter Likins promised about 101 Rose Elementary students in February 1998 that their university tuition will be waived if they graduate high school and meet the regular admissions standards.

Salcido, who likes to wear his UA basketball national championship T-shirt about three times each week, knows becoming a university student requires lots of hard work.

"It means I have to work harder and do better in school," Salcido said. "When I got the scholarship I was surprised."

About 96 children, now in the fourth-grade class, are still attending the elementary school, located at 710 W. Michigan Street. The five children who left the school are still granted the scholarship if they meet the same requirements, said Carmen Campuzano, Rose Elementary's principal.

A committee has been formed to monitor the students' progress and weak points, Campuzano said.

Representatives from Pueblo High School and Wakefield Middle School sit on the panel, because the children will likely attend those institutions next. Rose Elementary teachers and parents are also members.

"My biggest concern is getting parents' involvement," Campuzano said. "The excitement of the first year has worn off."

On a daily basis, UA students serve as reading tutors for C.E. Rose children, and university education majors also volunteer their time, she said.

"We have a lot of UA connections with these fourth graders," Campuzano said.

She said Rose administrators try to plan events with the UA to make the university seem more familiar to the youngsters.

The fourth and fifth grade classes plan to attend a UA basketball game this month, she said.

"We are trying to maintain the focus so they can achieve this goal one day at a time," Campuzano said.

Nine-year-old Andrea Olguin said she has not missed much school since she was awarded the scholarship.

"I don't like being absent," said Olguin, who wants to become a veterinarian. "Then I miss out on my homework."

Fourth-grade teacher Priscilla Peachey said she hopes her students will graduate from high school and college.

"If they continue to have positive attitudes, they will be successful people," said Peachey, one of four Rose teachers who have the lucky students in their classes. "They are can-do students who have set realistic goals and work hard everyday to reach those goals."

Ten-year-old Moriah Carbajal said her parents encourage her to try hard in school and do her homework when she gets home in the afternoon.

"He wants to see me go to college and have a good job," Carbajal said of her father's wishes.

Valentin Rivera, 10, said he is grateful for the opportunity to attend college for free.

"It means that my mom doesn't have to pay and I'm very thankful," Rivera said. "I can't wait to be a Wildcat."