Freshmen lead Wildcats in 88-73 win over USC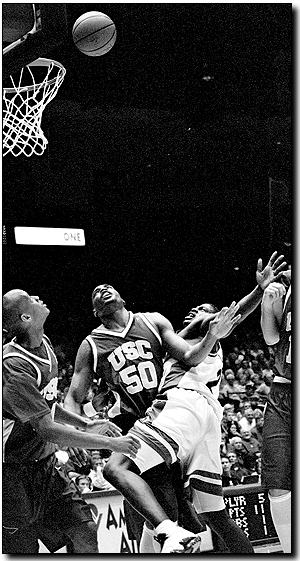 Eric M. Jukelevics
Arizona Daily Wildcat

Freshman forward Michael Wright (21) gets fouled on a shot during the game against USC last night at McKale Center. Wright had 22 points and 13 rebounds in the Wildcats' 88-73 win over the Trojans.


While other teams around the country were knee-deep in their conference tournaments, the UA men's basketball team concentrated on breaking out of its first slump of the season last night.

Arizona (21-6, 12-5) did just that, defeating USC (14-12, 6-11) 88-73 at McKale Center, ending a two-game losing streak.

"Overall, it was a good outing for us," Olson said. "The only thing we need to do is attack people when they spread their defense out and make them pay for the extension."

Four Wildcats finished in double-digits, led by freshmen Michael Wright, Ruben Douglas and Richard Jefferson. The three had 22, 19 and 14 points, respectively. Senior Jason Terry had 19 points.

Douglas came out on fire, knocking down two three-pointers, and ending with 7 of 9 shooting, including 3 of 5 three-point shooting. It was the third consecutive game for Douglas in which he had double-digits.

"I'm just going out there and playing my game finally," Douglas said. "I'm getting more playing time, and when you play defense, you get to stay on the floor longer."

Olson was pleased with the way the freshmen are starting to take some of the pressure off Terry. In last weekend's losses at California and Stanford, the Wildcats learned what things could be like if they rely solely on the senior guard.

"I really don't want to say there's anything good from a loss, but we saw how we can't depend on J.T., especially in the tournament," Jefferson said. "He's going to go in there with a lot of publicity, and everybody in the tournament's going to be focusing on stopping J.T."

Arizona has seen the freshmen have strong games, but scoring-wise, this was the first time they came together and played one of their best games.

"This game seemed to belong to the freshmen to a large extent, and that's great to see," Olson said. "That's big-time if Ruben can step up and give J.T. some help with the handling.

"Some other people have to step up so it's not always him with the ball."

Comfortable with Terry at the point and the combination of A.J. Bramlett, Eugene Edgerson and Wright on the inside, Olson says one of the final pieces to this team is the play of the two wings. Douglas and Jefferson have solidified those two starting roles.

Terry appreciated some of the weight being taken off his shoulders by Douglas and Jefferson.

"Ruben's been playing great the last two weeks," he said. "That's the way they're going to have to play the rest of the season."

Arizona dominated inside, outrebounding USC 42-26, but had difficulties with the USC press, committing 22 turnovers. Terry alone had a rare seven turnovers.

"I don't think we were having trouble with it, we just weren't attacking," Jefferson said. "We need to be a lot more aggressive if we don't want to see anymore of those presses."

The team has been working on beating the press in practice every day this season, and it looks like the players will continue practicing it until they feel comfortable with it. With UCLA bringing its 40-minute full-court press to McKale tomorrow, the Wildcats won't have to wait long to try it out again.

"Again, we didn't handle the pressure well at all," Edgerson said. "That can be detrimental in the tournament. That's our weakness now. When we play teams, they're just going to do what teams in the past did to us and press us."

Arizona had a season-high 35 free throws made and 48 attempted. Wright alone went 14 of 18, and Olson feels the Wildcats will not lose many games when they get to the line that often.

"We have a strong inside game," he said. "Plus, when you get offensive rebounds, that puts pressure on them and oftentimes they foul you."

Sophomore forward Greg Lakey came off the bench to lead USC with 14 points. He was followed by junior guard Quincy Wilder with 11 and junior forward Jarvis Turner with 10, both of who also came off the bench.

USC sophomore center Brian Scalabrine started, but was held to 18 minutes because he has been battling the flu. He attempted only one field goal, and finished without a single point.

Bryan Rosenbaum can be reached at Bryan.Rosenbaum@wildcat.arizona.edu.