Possible strike could add strife for returning students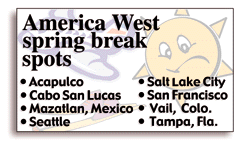 Arizona Daily Wildcat

"You go to spring break to relieve stress, and. your flight has been canceled. That can increase your stress." Cisco Aguilar ASUA President-elect


Students reaching their spring-break destinations on America West Airlines should pack a few phone numbers along with their sunscreen.

The airline's flight attendants have said they will strike or disrupt service beginning March 19 unless several salary demands are met. Many University of Arizona students will be returning from their excursions that weekend.

"We probably have 60 people that are returning on America West between the 18th and 22nd of March," said Mike Corona, a travel consultant with Campus Travel. "If there is a comparable alternative (to America West) we are using the comparable alternative."

America West spokesperson Patty Nowack said a federal mediator will begin working with flight attendants and management next week to try to avoid any service disruption. She said if there is a strike, America West will assist the affected customers.

"If there is a work stoppage, we will re-accommodate passengers or refund their ticket," Nowack said.

Corona said people should call America West Airlines toward the end of their trip to find out if a strike has begun.

If a work stoppage is underway, travelers need to go to the America West airport counter to get a flight on another airlines. He said travel agents cannot help with exchanges.

"It is definitely on America West's shoulders," Corona said. "It is their responsibility to find another airline with a similar schedule."

ASUA President-elect Cisco Aguilar said the timing of the potential strike could cause difficulties for students who have tests and assignments due the Monday after break. He said it also could impact the desired effect of vacation.

"You go to spring break to relieve stress, and then you come to find out your flight has been canceled," Aguilar said. "That can increase your stress."

America West has 12 daily flights out of Tucson International Airport, 11 of which go to Phoenix, the company' central hub.

The airline flies to 84 cities from Phoenix, including nine in Mexico, 17 in California and nine in Colorado. It flies to 17 different states.

America West's customer service number is 1-800-235-9292.