Taking care of business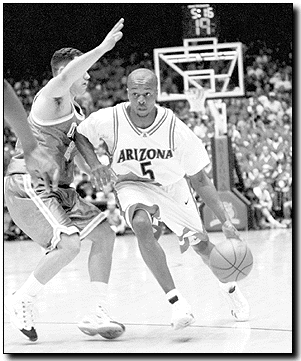 Ian Mayer
Arizona Daily Wildcat

Freshman guard Ruben Douglas (5) drives down court against UCLA at the McKale Center March 4. The No. 4 seed Wildcats play the No. 13 seed Oklahoma Sooners today at the Bradley Center in Milwaukee at 1 p.m. in the first round of the NCAA Tournament.


Twenty-eight games down, six more to go.

At least that's the way Eugene Edgerson sees it.

"I have no doubt we are capable of going all the way," the junior UA basketball forward said. "We're the only people capable of stopping us."

Of course, that won't keep the No. 13 seed Oklahoma Sooners (20-10) from trying to knock off the No. 4 seed Arizona Wildcats (22-6) when the two teams meet at the Bradley Center in Milwaukee today at 1 p.m. in the first round of the NCAA Tournament.
No. 4 seed Arizona vs. No. 13 seed Oklahoma
(22-6) (20-10)
Tipoff: Today at about 1 p.m. (game starts 30 minutes after UNC-Charlotte-Rhode Island game ends)
Radio/TV: Televised nationally on CBS (ch. 13); broadcast on KNST (790 AM)
Game Notes: The first game of the NCAA Tournament pits UA against the last at-large team to make the tournament... Sooner head coach Kelvin Sampson was 0-15 against Arizona while the head coach at Washington State... Oklahoma has four players who have attempted 120 three-pointers or more... The winner will advance to play the winner of the UNCC-URI game Sunday at 1:35 p.m.

The Sooners were the lowest-rated at-large team to get into the tournament and the only at-large bid to get a No. 13 seed. But they have the ability to get hot from the outside with four different players having taken more than 120 three-pointers.

"They took the most three-point shots in their conference, but they were also the best in terms of three-point percentage," Olson said. "We, on the other hand, were one of the worst teams at defending the three-point shot in the Pac-10."

In the past the Wildcats have had trouble defending teams that rely on three-pointers and were ranked last in the Pacific 10 Conference in three-point defense, with opponents shooting nearly 40 percent from beyond the arc.

The task of stopping the long-range shots will fall to freshmen Richard Jefferson and Ruben Douglas and All-American senior Jason Terry, who has been named the national player of the year by a number of publications.

"We have wanted to make sure that they have shifted gears (from UCLA game) and are focusing on stopping (the) three," Olson said. "This team is like Oregon more than any other team in our conference. They get the ball down court quickly, and pretty much the first good look that they get at the basket, the ball is going up. The key is going to be for us to make the three-point shooters drive with the ball."

If the Sooners' guards do drive, they will run into freshman forward Michael Wright, senior center A.J. Bramlett and Edgerson, who said the trip to Milwaukee was all about "taking care of business."

Oklahoma head coach Kelvin Sampson said he was worried about the size of the Wildcats' post unit, especially Wright.

"Michael Wright looks like a clone of Michael Cage. He has wide shoulders and was the Pac-10 freshman of the year," Sampson said. "They are very big up front and that is a concern for us because we are small."

One Oklahoman who may be able to counter that size, or at least survive it, is 6-8 junior forward Eduardo Najera, the sole Sooner inside offensive threat with 15.6 points and 7.9 rebounds per game.

Najera can also shoot from the outside, hitting at 34 percent.

"There are certain kids that you have to thank God you get the opportunity to coach and Eduardo is one of those kids," Sampson said. "He has been our do-it-all guy this year. His greatest strength is that he has no weaknesses in his game."
Probable Starting Lineups
Arizona (22-6, 13-5 in the Pac-10)

F  21  Michael Wright      6-7  Fr  14.0 ppg  
F  44  Richard Jefferson   6-6  Fr  11.9 ppg  
C  42  A.J. Bramlett      6-10  Sr  14.2 ppg  
G   5  Ruben Douglas       6-4  Fr   7.7 ppg  
G  31  Jason Terry         6-2  Sr  22.0 ppg  

Oklahoma (20-10, 11-5 in the Big 12)

F   21  Eduardo Najera     6-8  Jr  15.6 ppg  
G-F 30  Eric Martin        6-5  Sr  12.1 ppg  
F   24  Ryan Humphrey      6-8  So  11.2 ppg  
G   10  Michael Johnson    6-0  Sr  11.9 ppg  
G   44  Alex Spaulding     6-3  So   3.6 ppg  

Despite Najera's contributions, Sampson still said he does not feel that he has a player he can hand the ball to in crunch time.

"My big question was who is going to be our go-to-guy on offense," he said. "We desperately tried to develop a kid like that, but we just haven't been able to."

The Wildcats, on the other hand, have Terry, the ultimate go-to man with several game-winning shots and assists to his credit this season.

Terry, who averages 22 points and nearly six assists per game, has also caught the eye of Sampson, who said Terry was one of the top three players in the country.

"When I was filling out my player of the year ballots, three names stuck out - Elton Brand of Duke, Jason Terry of Arizona and Andre Miller of Utah," Sampson said.

While the Wildcats are only five point favorites in Las Vegas, Sampson said his team would have to play their best while hoping the Wildcats play their worst.

"We have seen them on tape in games when they looked like a million dollars and then also, like us, when they didn't play that well like at Cal or Washington," he said. "Tiger Woods says he has to bring his A-game. Well, we don't have an A-game, maybe a B- game. But we have to make them play their C-game."

Seth Doria can be reached via e-mail at Seth.Doria@wildcat.arizona.edu.