Former UA student dies during break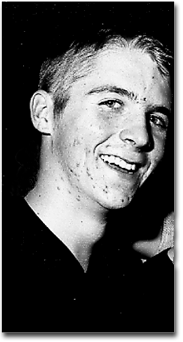 Arizona Daily Wildcat

Kevin Scott Medill The former UA business sophomore, died Tuesday night from injuries sustained when he reportedly tried to stop a friend from falling off a balcony.


The UA Pi Kappa Alpha fraternity will hold a memorial service tomorrow to honor a former member who died during spring break in Rocky Point while trying to save an allegedly suicidal friend.

Kevin Scott Medill, 20, died of massive brain injuries late Tuesday night in a Phoenix hospital after falling from a three-story-high balcony in the Plaza Las Glorias Hotel earlier that day.

Medill attempted to stop a friend from plunging off the balcony when they both fell over the railing. The friend, who has not been identified, suffered minor injuries from the fall.

Pi Kappa Alpha President Claude Lapuyade said Medill always put the difficulties of others before his own.

"He was always trying to help people with their problems," said Lapuyade, a communications junior. "Kevin was always putting other people first. He died the way he lived."

Fraternity members will commemorate Medill with a private memorial service tomorrow during a chapter meeting at their house.

Before leaving the University of Arizona last semester for Scottsdale Community College, Medill was a business sophomore and a member of Pi Kappa Alpha fraternity.

Medill's parents, Gordon and Laura, last night described their son as everyone's best friend, and recounted the events surrounding Kevin's tragic plunge.

Gordon Medill said his son's friend rushed for the hotel balcony early Tuesday morning, prompting Kevin to tackle the man.

The situation worsened when the friend reached the balcony ledge. As Kevin Medill tried to stop him from teetering on the rail and falling, he also tumbled over the ledge, Gordon Medill said.

The father said his son's girlfriend was inside the room, listening to Kevin counsel the man while the two stood on the balcony.

"She heard Kevin say, 'let me help you away from the ledge,'" Gordon Medill said.

But the conversation ended abruptly when the men disappeared and Medill's girlfriend looked over the rail to find them lying on the ground.

"We don't know what happened on the balcony," Laura Medill said. "We can only assume that the young man lost his balance."

After a Mexico hospital experience that the Medills described as an "absolute nightmare," their son was rushed by ambulance to the U.S.-Mexico border, then to Gila Bend for a flight to Phoenix's Good Samaritan Hospital.

Medill's parents, who were in Rocky Point, Sonora during the incident, accompanied their son throughout the day.

When doctors informed Medill's parents that their son's brain had ceased to function and he was essentially dead, they opted to donate Kevin's organs.

"They told us he suffered a massive brain injury and he probably died instantly," Gordon Medill said.

Medill was pronounced dead Tuesday night at 10:15.

The devastating loss has created a heartwarming aftermath, as the Medill family has been showered with an outpouring of support from Kevin's friends and relatives.

Laura Medill said her son's friends toasted Kevin last night, using glasses filled with water.

She said the toast should serve as a message that alcohol "can be a major problem," adding that Kevin had consumed alcohol but was not drunk the night of the incident.

Laura Medill said the friend allegedly drank that evening and was heavily intoxicated.

Gordon Medill said the number of people who paid his son a final visit in the hospital demonstrated the impact Kevin had on others.

"They (hospital workers) said they had never seen such a reaction among friends and relatives like they saw that night," Gordon Medill said through tears. "These people are hardened nurses and doctors. They said they can't believe it. People were lined up."

More than 1,000 people also jammed a Phoenix church for Medill's wake, packing the building's balconies.

Laura Medill said that hours before the incident, Kevin and his girlfriend, who joined him in Rocky Point, exchanged a special moment.

"She tapped Kevin on the shoulder and she said 'I love you Kevin.' He flashed that big smile and said 'you don't know how good that makes me feel.'"

Medill is survived by his parents and brother Chris, 18, of Phoenix.