Oklahoma loss a tragedy, blessing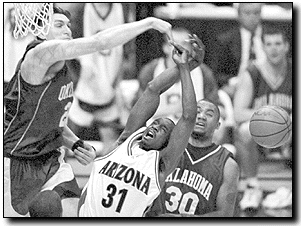 Associated Press
Arizona Daily Wildcat

Senior point guard Jason Terry (31) has his shot blocked by Oklahoma junior forward Eduardo Najera (21), right, as Oklahoma senior forward Eric Martin (30) watches during the first half of a first-round game in the NCAA Midwest Regional Friday, March 12, at the Bradley Center in Milwaukee. The Wildcats lost in the first round to the Sooners 61-60.


It's a shame it had to end this way.

After a season where every expectation was met and even exceeded, the men's basketball team lost to less-talented Oklahoma in the first round of the NCAA Tournament.

Senior point guard Jason Terry had enjoyed the most surprising breakout season in recent history only to go 4 of 17 in the loss.

Center A.J. Bramlett, who had made more progress than anyone from being a freshman to a senior, carried the UA post unit this year but missed two crucial free throws that would have given the Wildcats a six point lead with under 100 seconds left in the game.

The two roommates and best friends won a National Championship, went to the Elite 8 and the Sweet 16 before losing a game reminiscent of past horrors against Miami (Ohio), Santa Clara and East Tennessee State.

But before damning the two, as UA fans are prone to doing when expectations aren't met, realize that without Terry and Bramlett, this was an NIT team at best.

Terry was the first player since Gary Payton to lead the Pacific 10 Conference in scoring, assists and steals and Bramlett was an undersized center who dominated defensively against mammoths Todd MacCulloch and Tim Young.

The two went 11-3 during their post-season careers and had to deal with a starting lineup that had them surrounded by three freshmen who, despite being extremely talented, could never overcome being freshmen.

Once opponents learned to stop the All-American Terry, the Wildcats became a mediocre team. Against the Sooners, the freshmen wing duo of Ruben Douglas and Richard Jefferson combined to shoot 3 of 12 with three rebounds.

Pac-10 Freshman of the year Michael Wright, who kept the Wildcats in the game against the Sooners with a 10-point, 10-rebound first half, made one of the worst mistakes of the year that set the stage for Eduardo Najera's game-winning heroics.

As junior forward Eugene Edgerson said, Terry couldn't be superman every day.

So now Terry will go on to the NBA and Bramlett will probably head to Europe where 230-pound, 6-foot-10 centers can dominate (Joe Blair is a God in Italy).

But as Terry and Bramlett leave, their performances this year will show up again next season when Jefferson, Wright, Douglas and the others come back as sophomores who have learned as harsh a lesson as they could.

Alongside them will be Luke Walton and Loren Woods (the best post player to ever don a UA uniform) plus incoming freshmen Gilbert Arenas (young but a great shooter who once scored over 40 points in four consecutive games) and McDonald's All-American point guard Jason Gardner, who will likely start as a freshman.

As if that wasn't enough, UA head coach Lute Olson recently received a verbal commitment from 6-3 guard Lamont Frazier, who averaged 23 points, seven assists and six rebounds last season at Lon Morris College in Jacksonville, Texas.

Marijonas Petrovicius, a 6-10 Lithuanian playing prep ball in New Hampshire, might also join the crew as practice fodder for Woods.

With a log jam at shooting guard with Douglas, Arenas and Frazier and others who can play at the position (Rick Anderson, Walton), Traves Wilson might decide to transfer as his minutes will be limited at best.

You never want a player to transfer out of a program, but losing Wilson wouldn't exactly kill Olson or the team's depth.

A starting lineup of Gardner at point guard, Douglas or Frazier at shooting guard, Jefferson at wing forward, Wright at power forward and Woods at center is arguably better than this year's lineup. Mix in Edgerson (the lone senior), Walton, Anderson, Justin Wessel, Arenas (who might redshirt), Petrovicius and either Douglas or Frazier off the bench and this is a team that should win the Pac-10 and make some serious tournament noise next year.

And if you need an extra reason to get excited about next year's team, consider the fact that when Miles Simon and Michael Dickerson were freshmen, the Wildcats lost to Miami (Ohio) in the first round. Two years later, they added a JC star and a freshman point guard and won it all.