Faculty Senate unanimously passes highly-debated whistle-blower policy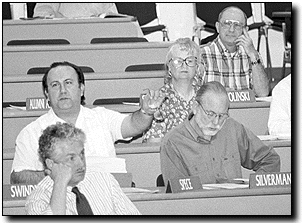 Randy Metcalf
Arizona Daily Wildcat

Law professor Roy Spece (left) speaks out during the Faculty Senate meeting yesterday at the College of Law. The UA's whistle-blower policy was the main topic of discussion.


The UA Faculty Senate yesterday unanimously passed a long-awaited revision to the controversial whistle-blower policy during a two-hour meeting devoted exclusively to settling the issue.

Senators accepted the revamped draft after approving 18 of the 20 proposed amendments to the employee-protection policy.

"I'm pleased that we came to a sufficient compromise on whistle-blower protection," said Jerrold Hogle, the University of Arizona's faculty chair. "I think this shows that we can act without state interference."

UA officials have been reviewing the whistle-blower policy since Feb. 1998, when an Arizona state legislative bill threatened to take control out of the university's hands.

The Legislature killed the bill after the three state university presidents agreed to alter their own policies, adding protection for employees who report wrongdoing within departments.

A similar state bill passed Wednesday in the state Senate, but is on hold for revision. The proposal may go before the Legislature next year.

Jeffrey Warburton, Faculty Senate presiding officer, said he hopes the new policy will stop state officials from interfering next year.

"I think they'll understand that we have a whistle-blower protection policy," he said. "We made that agreement last year."

Sen. Roy Spece, a law professor, proposed 15 amendments, most of which altered the policy's wording to broaden its protection capabilities.

In an effort to encourage employees to report mismanagement, Spece's alterations broaden the scope of possible incidents that would fall under whistle-blower protection, he said.

Spece's final amendment added an option that allows UA employees to appeal for a trial by jury, a right that other state employees already have.

"I think we made a substantial improvement, but we need to keep looking at it," Spece said.

He said while the revised draft is better, faculty senators should continue viewing the documents as a work in progress.

Despite his passing vote, Sen. Theodore Laetsch, a math professor, argued that broadening the policy will open up faculty to lawsuits and possibly take time from teaching and research.

Later, Sen. Andrew Silverman, a law professor, proposed three amendments designed to ensure a fair hearing for whistle-blowers.

His additions create a committee to select a neutral hearing officer to handle any whistle-blower case. The amendments also allow attorney representation for employees at the hearings.

But Carol Bernstein, head of Arizona's American Association of University Professors, remained dissatisfied yesterday with the policy.

"From what I understand it's greatly improved, but it's missing a number of elements," she said.

The UA's policy doesn't allow for an effective hearing officer, and many employees can't afford an attorney, Bernstein said, adding that the option for a trial by jury is an important step.

The revised policy is closer to the state's employee protective legislation, but still lacks significant details, she said.

Bernstein said she initiated the recent state bill and intends to push a tougher policy through the Legislature next year.

Of the two amendments that did not pass, one was a minor wording change and the other was addressed by another guideline.