Spring practice rolling to a close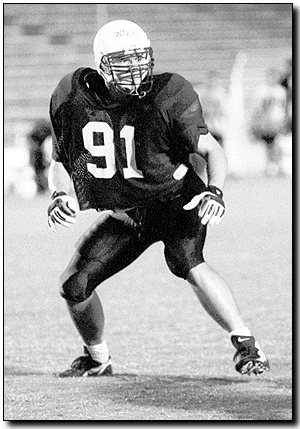 Wildcat File Photo
Arizona Daily Wildcat

Freshman defensive end Eli Wnek (91) lines up for a play during a UA scrimmage Sept. 25. Wnek has switched positions this spring, trying out for the vacant H-back position.


The Arizona football team has returned from spring break and resumed spring practice this week. With two weeks down and two to go before the April 3 intrasquad scrimmage, UA head coach Dick Tomey commented on what he's seen so far from the team that finished No. 4 in the country last year with a school-best 12-1 record.

"It's all about the process for us," he said. "We don't want to think about the results yet."

Defensive line

"Our defensive front is better than it was at this time last year," Tomey said.

With only Daniel Greer departing, the front returns several key starters including junior defensive end Joe Tafoya, junior DE Mike Robertson and sophomore defensive tackle Keoni Fraser.

"Joe Tafoya has grown a lot since last year," Tomey said. "He's healthy this year.

"Mike Robertson played without spring practice or the benefit of weight training last year, and this year he has both.

"Keoni Fraser played last year without any summer training coming into the fall."

Tomey also said junior DT Anthony Thomas has "lost a lot of weight, just like Daniel Greer did."

The team's depth on the defensive line has also impressed Tomey, with redshirt sophomore DE Alex Luna having "really stepped up."

Arizona is without junior DT Idris Haroon, who is recovering from an unspecified injury, but he has still been out at every practice watching and learning, Tomey said.

Secondary

"We're looking for back-ups in the secondary," Tomey said, as the primary lineup of senior free safety Rafell Jones, senior strong safety Greg Payne and cornerbacks Leland Gayles and Kelvin Hunter seems set.

Tomey said Gayles, who is recovering from a "stinger," an injury to a nerve in his neck which happened when he collided with teammate Marcus Bell against Washington Oct. 3, is coming along.

"He's doing O.K.," Tomey said. "He's got a (protective) collar on, but it's just a precautionary thing. He hasn't missed a beat so far."

While the coaches scour for more players to fill the bench, Tomey said replacing consensus All-American Chris McAlister has not been a major concern.

"We'll see what life without Chris is like," he said. "They'd all like to prove something without Chris there, and I think they can do it."

The team also got a late recruiting addition in Zaharius Johnson, a junior college transfer from New Mexico Military Institute.

"He's a little bigger than anyone we have out there," Tomey said. "We couldn't find a DB we liked a lot until we found him."

Running backs/H-backs

With Kelvin Eafon and Paul Shields having completed their eligibility, the Wildcats have spent the spring searching for someone to take over in the H-back role to block for senior Trung Canidate, last year's Pacific 10 Conference leader in rushing yardage with 1,220 yards on 167 carries, a 7.3 yard average.

Tomey said one of last year's blocking backs, senior Jim Wendler, is petitioning the NCAA for another year of eligibility. In the meantime, he is practicing with the team.

"If he gets another year, he'll be a better football player," Tomey said. "If not, he'll be a better football player in the next life."

With Wendler's situation up in the air, two defensive players have made the move to offense to try and fill the hole.

"(Redshirt sophomore) Eli Wnek has looked good," Tomey said. "He's split time between offense and defense in the first half (of practice), but now we're going to have on offense only."

Senior Dolphin Tillman is the other defensive transfer.

"There's nothing conclusive yet," Tomey said. "We've got three good candidates."

Wide receivers

With senior Brad Brennan out after ankle surgery and sophomore Malosi Leonard banged up, the team's receiving corps has been depleted this spring.

"Our passing game hasn't come along as well as last year," Tomey said, noting it had nothing to do with quarterbacks junior Ortege Jenkins and senior Keith Smith.

Tomey said he is hopeful someone will emerge from a group of candidates that includes sophomore Michael Hairgrove and former redshirt junior quarterback Nick Fleury, who switched positions this spring.

With a number of key recruits coming as receivers, Tomey said he is confident the situation will be settled by the season opener Aug. 28 at Penn State.

Offensive line

With three starters, Yusuf Scott, Edwin Mulitalo and Mike Lucky gone, plus surgery having sidelined senior right tackle Manuia Savea and sophomore left guard Steve Grace out sick, the line has a new look to it this spring.

"It's a good thing a lot of guys are down because it gets a lot of other guys the chance to compete," Tomey said.

Among those getting their chance are three redshirt freshmen: Aaron Higginbotham, Otis Redding and Darren Safranek.

"It's a tough transition," Tomey said of going from a back-up to a starting role. "The techniques are so foreign for someone who hasn't played much, it takes a while to pick all the plays up. They all need a lot of time to work."

Tomey said the team as a whole is looking better than last year's.

"It's going to be a lot harder to get a spot on this year's team," he said.

Chris Jackson can be reached at Chris.Jackson@wildcat.arizona.edu.