Major League Dreaming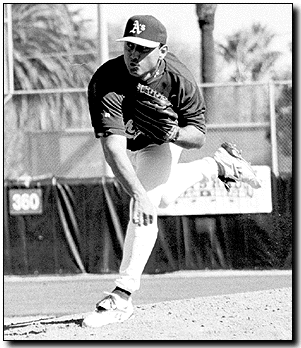 Eric M. Jukelevics
Arizona Daily Wildcat
Former Wildcat and current Oakland A's pitcher Gilbert Heredia throws against the current Wildcats at the All-Pro Alumni Game Feb. 7 at Frank Sancet Field. After going 3-3 with 2.74 ERA down the stretch with Oakland last year, Heredia has earned a job in the starting rotation for 1999.
The Arizona baseball program has been one of the best in the country over the last 25 years, winning three College World Series championships in 1976, 1980 and 1986.
Many of the most talented players on those teams and others over the years return to UA for the annual All-Pro Alumni Game, and some then head off for spring training. With spring training rolling to a close, here's where some of those UA alumni stand in terms of their professional careers.
The stars
The most notable former Wildcat may be pitcher Scott Erickson, who set the school's single-season record for wins with 18 in 1989. It was Erickson's only season with the program as he was drafted by the Minnesota Twins that same year.
Erickson has gone on to become the first former Wildcat to win 100 games in the Majors, accomplishing that feat last year with the Baltimore Orioles as he went 16-13, leading the Orioles in wins and games started (36).
Manning first base in 1989 was J.T. Snow, a slick fielder who also led the team in hitting (.359). Snow eventually made his way to San Francisco, winning four Gold Gloves along the way.
He also became a power threat, hitting 28 home runs in 1997. He dropped to 15 last year, but his ability to concentrate on baseball was obviously affected by the death of his mother.
Two other former Wildcats made it to the Majors under somewhat odd circumstances.
One was the 1989 team's starting shortstop, who led UA in hitting in 1988 (.371). He was considered to have the strongest throwing arm in the Pac-10, and when the Cincinnati Reds drafted him they converted him into a pitcher.
He wound up with the Padres and became the best closer in baseball, saving 53 games in 54 chances last season and finishing runner-up to the Braves' Tom Glavine in the Cy Young Award balloting.
His name: Trevor Hoffman.
The other former Wildcat who took a curious route was not expected to make it to the Majors; he was expected to play in the NBA.
A guard on Lute Olson's basketball team from 1986-89, he led the team in steals three years in a row, using his amazing speed to help Arizona reach its first Final Four in 1988.
But the NBA never came calling, and he signed with the Astros in 1989 after having been drafted the year before. He was traded to the Indians for catching prospect Eddie Taubensee, who never panned out in Houston.
But former UA guard Kenny Lofton did pan out in Cleveland, and is still the Indians' center fielder and leadoff hitter. Last year he hit .282 with 12 home runs and stole 54 bases, and that was despite battling nagging injuries and illness for most of the year.
A fifth former Wildcat could join this group in third baseman George Arias. He only played one year at UA but still holds the all-time mark for home runs in a single season with 23. For comparison, UA's career leader, Kenny Corley, had 36 over three full seasons and one partial season.
Arias (.308-36-119 at AAA Las Vegas in 1998) enters the season as San Diego's starting third baseman, taking over for free agent Ken Caminiti, who went back to Houston.
A sixth Wildcat won't be starring in the Majors, but he will be in Philadelphia on opening day. Terry Francona, the leader of the 1980 CWS championship team in a year where he hit .401, played for 10 years in the Majors for five teams. Now he is the manager for the Phillies, returning for his second season at the helm.
The journeymen
The tales of the following players are mixed, with some on a downward slide and others having renewed hope.
Pitcher Gil Heredia twice led UA in wins, with 16 for the last CWS championship team in 1986.
Heredia couldn't seem to translate success at the collegiate level into success in the Majors, bouncing from team to team until finding a home with Oakland last season. The pitching-starved A's called Heredia up from AAA Edmonton, where he had been 10-8, and put him in the bullpen. Two solid outings later they gave him a starting job, and he responded by going a combined 3-3 with a 2.74 ERA in six starts.
Heredia is slotted to pitch fourth in the rotation this year behind Kenny Rogers, Tom Candiotti and Jimmy Haynes.
Southpaw reliever Ed Vosberg (10 wins in 1983) was one of Arizona's best all-time pitchers. He was drafted by the Padres and pitched for four other teams. He pitched for the 1997 World Series champion Marlins and went back to San Diego last year. But an injury knocked him out for the season, and he missed the chance to face the Yankees.
This year, though, Vosberg is healthy and with San Diego's only other left-handed relief option being Randy Myers (6.28 ERA in 1998), he is likely to chew up some innings setting up Hoffman.
Jack Howell never set the college level on fire, but he has made a long career for himself in the Majors. He hit .289 last year backing up All-Star Jeff Bagwell and pinch-hitting for the Astros.
Other ex-Wildcats don't have spots as reserves waiting for them like Howell.
Infielder Jason Bates left UA in 1992 for the expansion Rockies, playing with Colorado up until last season, when he was released. Bates signed with Detroit, but failed to make the Tigers' roster and was demoted to AAA Toledo.
Bates is hoping to avoid the fate of infielder Chip Hale, who was arguably the best player ever to wear a UA uniform. He is the team's all-time leader in games played (255), consecutive games played (also 255), at-bats (978), hits (337), walks (162) and total bases (507).
Hale (Twins, 1987) was never able to find his niche, and wound up bouncing around. After playing at AAA Memphis (Cardinals) last year, Hale was given his walking papers and hasn't signed this spring.
A similar fate befell outfielder Damon Mashore, who hit .352 at Arizona in 1990 and led the team in stolen bases three years in a row (1989-91). Drafted by the A's, he was released in 1997 and signed with the Angels. He wound up going back and forth from Anaheim to AAA Vancouver and was dropped from the 40-man roster at season's end.
Infielder Jason Thompson and catcher Willie Morales didn't even have that much luck. Thompson hit .271 at Las Vegas last year before getting hurt, and he signed a free agent contract with the Dodgers, only to be sent down last week.
Morales hit only .199 at Edmonton last year, and catchers A.J. Hinch and Ramon Hernandez have since passed him by.
The prospects
John Powers was drafted in 1996 by the Padres, and last year hit .302 with 12 home runs and 52 RBI at AA Mobile. Powers plays both third base and second base and with Arias moving up, Powers will likely take his spot at Las Vegas this year.
Another former Wildcat, infielder Jake Thrower, was drafted by San Diego in 1997.
Outfielder Diego Rico (Cubs, 1997) hit .273 with over 20 stolen bases as the center fielder at Class-A Daytona last year. He has an eye on someday replacing the injury-prone Lance Johnson at Wrigley Field.
Of the nine Wildcats drafted in 1998, southpaw Ryan Moskau earned considerable praise for his performance at Yakima (A) as he was named the Dodgers' top prospect in the Northwest League.
The others all spent their time last year with Class-A teams, and while all are looking to move up this year, only time will tell if they follow in the footsteps of players like Snow, Hoffman and Erickson and not struggle along like Hale, Mashore and Morales.