Wnek could bring desert swarm back to Arizona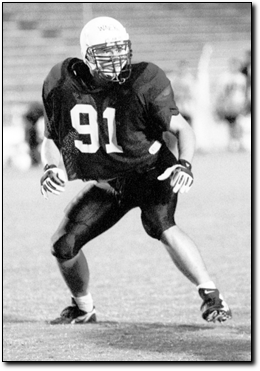 Nicholas Valenzuela
Arizona Daily Wildcat

Freshman defensive end, Eli Wnek (91), lines up for a play during a UA scrimmage Sept. 25. Wnek had two tackles, a sack and three quarterback hurries against Hawaii last Thursday in the Wildcats' 27-6 victory.


A word to the offenses in the Pacific 10 Conference, look out for No. 91 with the big A on his helmet.

Eli Wnek, a redshirt freshman defensive end, has earned a starting spot with the Arizona defense for Saturday's Pac-10 opener against Stanford.

Wnek had two tackles, a sack and three quarterback hurries against Hawaii last Thursday in the Wildcats' 27-6 victory.

"Wnek, in his first game, played the best of all our defensive lineman," head coach Dick Tomey said.

This praise from Tomey, as well as his work ethic in practice, has led to his rise in the depth chart to the point of his starting against the Cardinal.

"This is what I worked hard for," Wnek said. "The only thing I know is to give a 1,000 percent effort."

Defensive coordinator Rich Ellerson feels that Wnek has grown into a fine athlete after challenging him last season to get better.

"We counted on two things for Eli," Ellerson said. "One, he would be trying to do the proper thing, and two, he would be doing it at full speed."

Wnek has fulfilled the challenges set by the coaching staff in the spring and has made it well known to everyone else.

A native of Glendale, Ariz., Wnek spent the 1997 season impressing coaches on the scout team with his quickness and ability to come at the offense at full speed on every down.

"I have worked hard because I felt it was necessary to do so," he said. "I don't really know why I am starting. I guess I just played well and the coaches noticed."

Wnek finished his career at Ironwood High School in Glendale with 26 sacks to go along with his 228 tackles. He was named first team All-Arizona and All-Region. He also made the USA Today honorable mention list.

"I just want to start and play great while getting a degree out of the whole thing," Wnek said. "Football has been great to me, but everything after is just icing on the cake."

Ellerson sees a lot more production to come from Wnek in his future with Arizona football.

"He challenged himself in the offseason and has become more productive and more physical as a result," Ellerson said. "But he is not as physically mature as he is going to be coming out of this thing."

The future for Wnek as a Wildcat seems bright for the next four years, despite the risk of injury that all football players take on when they run out onto the field. As for now he is just concentrating on one thing.

"I have dreams and aspirations to be a leader here, but right now I am just thinking about playing hard in practice and beating Stanford on Saturday," he said.

Dan Rosen can be reached via e-mail at Dan.Rosen@wildcat.arizona.edu.