Yugoslavia attacked in effort to push for peace
By The Associated Press
Arizona Daily Wildcat
March 25, 1999


Send comments to:
letters@wildcat.arizona.edu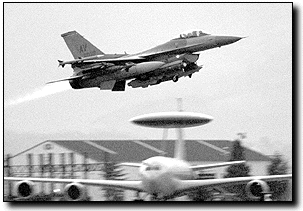 Associated Press
Arizona Daily Wildcat

A U.S. F-16 fighter plane takes off from NATO's Aviano, Italy air base Wednesday. On the runway an AWACS airplane readies for take off. NATO forces unleashed a long-threatened attack Wednesday on targets in Yugoslavia, resorting to massive force after diplomacy failed to bring an end to fighting in Kosovo.


Associated Press

BELGRADE, Yugoslavia - Wave after wave of NATO warplanes and missiles struck Yugoslavia yesterday, pummeling army barracks, power plants and air defense batteries to force the country's defiant leader to cease his onslaught against Kosovo Albanians.

The NATO attack came after months of diplomacy failed to end fighting that has killed more than 2,000 people in Kosovo and left over 400,000 homeless in the past year.

''Only firmness now can prevent greater catastrophe later,'' President Clinton said from the White House shortly after the bombing began. ''Kosovo's crisis is now full-blown and if we do not act clearly it will get even worse.''

The Yugoslav army declared a state of war shortly after the first wave of attacks. It said more than 20 targets were hit in the first hour but claimed that no air defense units were damaged.

Explosions resounded in Kosovo's capital of Pristina starting at 7:55 p.m. (1:55 p.m. EST), and the city of 280,000 was plunged into darkness when the electricity failed. The official Tanjug news agency reported four heavy blasts in the city, including three from the area of Slatina airport.

More than a dozen explosions pounded Belgrade, the Yugoslav capital, including some near Batajnica military airport and one near a power plant.

In neighboring Montenegro, which with Serbia forms Yugoslavia, an army military barracks in Danilovgrad was in flames after being hit, and three soldiers were wounded.

Explosions also were heard in the area of Novi Sad in northern Serbia, northwest of Belgrade.

Scores of cruise missiles and one-ton bombs were fired at Yugoslav targets. Dozens of warplanes were used, including six U.S. B-52 bombers and two B-2 stealth bombers, appearing in combat for the first time.

Belgrade TV reported that one NATO plane was shot down in the Cicavica Mountains, northwest of Kosovo's capital Pristina, according to Yugoslav military forces. NATO officials in Brussels, Belgium, and Defense Secretary William Cohen in Washington both said they could not immediately confirm the report.

Cohen said there was some air-to-air combat, but ''our aircraft have safely returned'' after the first wave.

The attack was swiftly condemned by the Yugoslav army as unwarranted ''aggression'' orchestrated by the United States on behalf of ethnic Albanian ''separatists and terrorists.''

The first explosions, it said, ''mark the end of international law and ... have opened up a new sad page in world history.''

Russian President Boris Yeltsin ordered his nation to pull out of its partnership with NATO and warned of possible further steps to protest the airstrikes.

In New York, the U.N. Security Council, acting on a Russian request, met in emergency session. Secretary-General Kofi Annan chided the Western alliance for failing to involve the council in its decision to use force.

NATO Secretary-General Javier Solana said the attack was justified because of Yugoslav President Slobodan Milosevic's intransigence.

''We must stop the violence and bring an end to the humanitarian catastrophe now taking place in Kosovo,'' he said. ''We have a moral duty to do so.''

Milosevic has repeatedly refused to end the war against ethnic Albanian separatists and accept a peace plan for Kosovo, part of the dominant Yugoslav republic of Serbia.

Two days of talks with special U.S. envoy Richard Holbrooke, who brokered an end to the Bosnian war in 1995, failed to persuade the Yugoslav leader to accept a U.S.-backed plan and its call for 28,000 NATO troops to enforce peace in the province.

The ethnic Albanians, who make up 90 percent of Kosovo's 2 million people, accepted the plan at Paris peace talks, but the Serbs refused.

Fighting raged in several Kosovo villages on Wednesday despite the looming threat of airstrikes. Serb tanks fired volley after volley into areas near Kosovo's southern border with Macedonia, and Associated Press Television News journalists saw about 100 houses ablaze in three devastated villages close to the border.

An estimated 40,000 Yugoslav army and Serbian police forces are in Kosovo, pursuing the massive crackdown Milosevic launched in February 1998 to try to crush ethnic Albanian rebels.

Only hours before the NATO attack, Milosevic delivered a final message of defiance, urging Yugoslavs in a nationally televised address to defend the country ''by all means.''

''What is at stake here is the freedom of the entire country, and Kosovo was only the door intended to allow foreign troops to come in,'' Milosevic said.

Western allies said the door was open at any time for Milosevic to accept the Kosovo deal - which the Albanians have already signed.

''One phone call from Milosevic would be enough,'' German Foreign Minister Joschka Fisher said at a European Union summit in Berlin.

The NATO onslaught, which officials have said could last for days, will initially rely heavily on cruise missiles launched from allied warships in the alliance's Mediterranean fleet.

The aim is to heavily damage Yugoslavia's air defense network before a wider air offensive expected to follow.

More than 400 warplanes were stationed at NATO bases in Italy for the attack. NATO's Mediterranean fleet, which includes eight warships from eight countries, sailed from Trieste.

Ahead of the attacks, Yugoslavia declared a state of emergency Tuesday night, ordering its forces dispersed to hide from bombings. Many people went on panic shopping sprees and long lines formed at gas stations. Most foreign embassies had already evacuated their staffs.

Neighboring nations also were on alert, concerned about the possibility of war spilling across more borders in the unstable Balkans and about a possible flood of refugees fleeing Serbia and Kosovo.