Mirror finds resting spot at observatory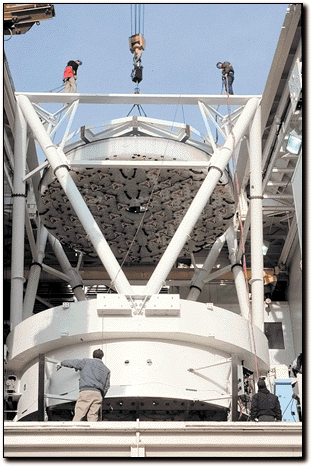 Arizona Daily Wildcat

Photo courtesy Lori Stiles, UA News Services Project engineer Joseph "J.T." Williams (bottom left) directs two Smithsonian Institution engineers as they help lower the new 6.5-meter mirror for the Multiple Mirror Telescope Observatory. The 10-ton slab of glass was fitted into the mirror cell yesterday morning.


If breaking a mirror brings seven years of bad luck, UA and Smithsonian Institution scientists are pretty lucky.

Especially considering that their mirror cost $10 million.

Early yesterday morning, astronomers and engineers used a crane to successfully maneuver the 10-ton slab of glass into the telescope at the Multiple Mirror Telescope Observatory.

The new 6.5-meter mirror will replace six smaller mirrors that gave the observatory on Mt. Hopkins near Tucson its name.

The telescope should be ready for astronomers by September, said Senior Research Specialist Dean Ketelsen.

"I'd like to be the first guy at the eyepiece," he said.

The crane lifted the mirror nearly 70 feet in the air using a spider-like lifting device equipped with 36 two-foot diameter suction cups.

During the more than three-hour operation, engineers slowly lowered the glass into the metal support structure and brought it to rest in the mirror cell.

With only a 5-inch clearance between the mirror and the surrounding steel, it was the most tense part of the day, said Steward Observatory engineer Stephen Warner.

Scientists had to align the mirror and its cell to an accuracy of a couple of millimeters before the crane could be removed.

The new mirror will make the telescope more than twice as powerful, said astronomy professor Christopher Impey.

The mirror was cast in 1992 at the University of Arizona Steward Observatory Mirror Laboratory using a special spinning oven. The oven spins to give the molten glass a curved surface, Ketelsen said.

"If we hadn't spun it we would have had to put in an extra 10 tons of glass. Then we'd have to cut it out again," he said.

The mirror took more than a year to cast, cool down and remove from its mold. Lab workers then spent another two years grinding and shaping the glass with diamond instruments, giving it an ultrasmooth exterior, he said.