'No more tears'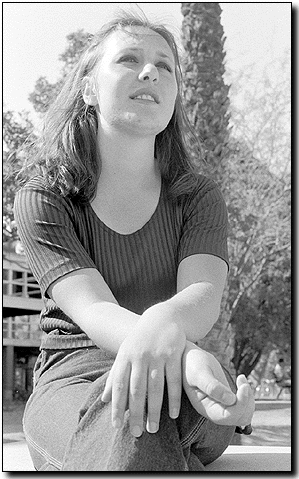 Nicholas Valenzuela
Arizona Daily Wildcat

Sophomore Finance and French major Surenela Mullaj speaks about the current situation in Kosovo. Mullaj is an Albanian student who still keeps in contact with her family back home and feels that NATO is doing the right thing.


Most UA students' closest connection to the conflict in Kosovo is the nightly news.

Surenela Mullaj's connection comes through telephone conversations with her grandparents in Albania - complete with stories of friends whose wives have been raped, houses have been torched and comrades have been killed.

"They are telling me that it is getting worse," said Mullaj, a sophomore majoring in business finance and French. "They (Serbs) are raping more and they are burning more and killing more. The Kosovars are preparing for it to get worse before it gets better."

Kosovo, a southern Serbian province, has been wracked by war since Yugoslav President Slobodan Milosevic launched a campaign against separatist ethnic Albanian rebels in Feb. 1998.

NATO officials say the Serbs are trying to forever alter the ethnic makeup of Kosovo. Milosevic has closed universities, killed teachers, shut down offices and prohibited Albanian language in his ethnic cleansing campaign, Mullaj said.

"Children are being killed after being born in the hospitals - anything they (Serbs) can do to eliminate Kosovars - and I don't know why," she said.

Mullaj, 20, said she hears about the horrors weekly when she speaks with her grandparents, who live in Albania and are housing a few of the 14,500 Kosovar refugees that have flooded the country since Wednesday.

More than 180,000 refugees have overwhelmed neighboring countries, including Albania, since NATO bombings began March 24, according to the U.S. State Department.

"The refugees are frightened and scared. They have no more tears," Mullaj said. "They're so exhausted and there have been so many atrocities. They are just hoping and praying it will end soon."

Although Mullaj predicted the refugees' eventual return after NATO attacks subside, troubles are likely to remain, she said.

"How can they (Serbs) say that when Kosovars come back, they will be treated as equals? This is so utopian," Mullaj said. "Serbs and Kosovars hate each other. I don't have anything against Serbs, but everybody is paying for one man - Milosevic."

Mullaj said she hopes the military action will lead to an independent government for Kosovo.

President Clinton, in a CBS interview aired Wednesday, said he is leaning more toward support for Kosovo's complete independence. Milosevic's actions demonstrate he cannot be trusted to fairly govern the Kosovars, Clinton said.

"NATO knows that," Mullaj said. "That's the reason they're bombing: because he (Milosevic) doesn't keep his promises. They (Kosovars) don't want Milosevic to lead them. They don't trust him."

Allied ground forces will be necessary to ensure lasting peace in the province, Mullaj said.

"If NATO really does its mission, they will send ground troops, humanitarian aid, food and medicine," she said. "It will be a long process. It will be step-by-step. It might take five years before they reconstruct the schools, the universities, the offices, the banks."

NATO's top military officer, U.S. Gen. Wesley Clark, acknowledged that air power alone cannot stop alleged Serb atrocities being committed on the ground. He said it was up to NATO's political leaders to decide how to respond.

Mullaj said she doesn't believe Milosevic will back off easily.

"People say we should kill him or arrest him," she said. "But there will be proof of the atrocities - evidence he is a criminal. He must be judged for what he is doing.

"The refugees are frightened and scared. They have no more tears," she said. "They're so exhausted and there have been so many atrocities. They are just hoping and praying it will end soon."

Mullaj said it is important for Americans to understand reasons they should support NATO and U.S. involvement in the conflict.

"This is the right thing to do for freedom, human rights and peace," she said. "I don't know how everyone can help, but just supporting it and being conscious of it is the right thing to do."

NATO and the United States are not fighting another country's war, they are protecting human rights, Mullaj said.

The conflict has reached a point where only increased military action can preserve the rights of Kosovar Albanians, she said. Many Kosovars want to fight their own war, but Yugoslavia's armed forces are far more advanced, and Kosovo's Liberation Army is no match.

"The people are frightened. Their only hope is NATO," she said. "People should support their husbands, friends and boys in NATO, because they're keeping peace."

Like the majority of Albanians seeking higher education, Mullaj left home to attend college. She chose the University of Arizona because she knew someone here.

Mullaj returns to visit her family throughout the year and said she wants to move back permanently after completing her degree.

The Associated Press contributed to this report.