Wildcats vs. Wildcats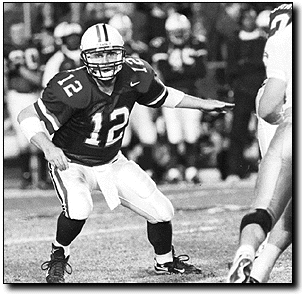 Nicholas Valenzuela
Arizona Daily Wildcat

Quarterback Keith Smith (12) rolls back after a hand-off during the game against Washington State last season. The Arizona football team will have its annual spring scrimmage tomorrow night at 6 at Arizona Stadium.


The purpose of tomorrow night's UA football scrimmage at Arizona Stadium at 6 is simple, head coach Dick Tomey said.

"It's a final examination for the spring to see how far we've come and how far we still have to go," he said.

Four weeks of spring practice will come to an end Monday morning, but the annual spring scrimmage is the biggest opportunity for the players to strut their stuff and impress the coaches before practice resumes in August at Camp Cochise.

"We want to know where we're at," senior quarterback Keith Smith said. "A lot of new guys need to show up on the film so the coaches can look at them going into the fall."

Coming off a school-best 12-1 record and a No. 4 national ranking, the Wildcats return the bulk of their starters. But there are some holes, and depth is always an issue the coaches look at during the spring.

Last year's spring surprise was the emergence of H-back Paul Shields, who became a key blocking back in UA's running scheme last season.

"We're still looking for players," offensive coordinator Dino Babers said. "We're just looking for great effort, to see who's the next Paul Shields."
Arizona football scrimmage
When: Tomorrow night at 6
Where: Arizona Stadium
What: The annual spring scrimmage is free to the public... UA starters will likely only see limited action, with some (WR Brad Brennan, RB Trung Canidate, OL Manuia Savea) not playing at all... Arizona will have one more practice Monday, then will not have another until Camp Cochise opens in August... the Wildcats finished last year No. 4 in the country with a school-best 12-1 record.

This year's spring has seen the team deal with a big turnover of personnel in terms of the offensive line and wide receiver corps, while also trying to find new blocking/short-yardage backs to replace Shields and Kelvin Eafon, who've completed their eligibility.

"I think it's still a cast of thousands," Babers said. "It won't be settled until August like last year."

As for the receivers, Smith said that despite the departure of Jeremy McDaniel and ankle surgery keeping senior Brad Brennan out for the spring, the group UA has is coming along.

"It has improved, especially over the past three or four days," Smith said. "The guys have really stepped up. It's good for them not to have to think too much about plays, to just know them instantly. They're picking it up real well now."

Not every UA starter will appear in the game like Smith and co-starting quarterback Ortege Jenkins.

"You won't see Trung Canidate till August," Babers said of UA's starting running back.

Also out is senior offensive lineman Manuia Savea, who underwent knee surgery earlier this spring and is not yet ready for full workouts.

"Spring practice is very inconclusive," Tomey said. "We won't have all the answers until August, at least."