Wildcats cruise to 13-1 win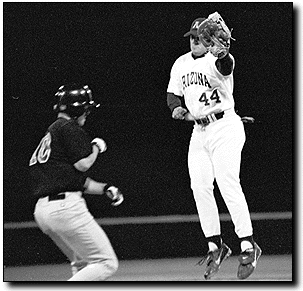 Ian Mayer
Arizona Daily Wildcat

Sophomore first baseman Ernie Durazo (44) pulls down a wild throw and tags the runner out during yesterday's game against Grand Canyon at Sancet Field. The Wildcats defeated the Antelopes 13-1 and now await Oregon State for a three game series starting Friday at Sancet.


It's usually not this easy for the Arizona baseball team.

The Wildcats (22-16) took a break from Pacific 10 Conference competition and rolled to a 13-1 victory over Grand Canyon last night at Frank Sancet Field.

Freshman Brian Pemble pitched four scoreless innings, allowing a paltry two hits. Freshman designated hitter Ben Diggins hit the longest home run of the season and freshman right fielder Shelley Duncan drove in five runs as the Wildcats overwhelmed an undermanned Antelopes squad.

A single by sophomore shortstop Keoni DeRenne opened up scoring in the first, followed by a sacrifice fly off the bat of sophomore third baseman Erik Torres, making it 2-0. A three-run blast by Duncan, his team-leading 14th of the year, put the Wildcats up 7-0 in the third inning.

The high point of the UA effort, though, occurred in the sixth inning when Diggins took a Jason Bouie fastball approximately 457 feet, clearing the trees beyond the left field wall. "It's the hardest ball I've ever seen hit in my life," Duncan said. "He roped it."

Diggins, upon hearing that his solo shot was the furthest hit at Sancet this season, seemed a bit shocked.

"The stroke felt really good," he said. "I didn't see it, but I have a little rhythm right now. In hitting, that's all there is."

Duncan's five RBI led all batters. The freshman, son of St. Louis Cardinals pitching coach Dave Duncan, is closing in on a Wildcat record for home runs per at-bats. Right now, Duncan homers every 9.6 at-bats, eclipsing the record of one per every 11.03 at-bats held by former Wildcat and current San Diego Padres third baseman George Arias, who set the record in 1993. Duncan is still nine home runs short of Arias' single season record, also set in 1993.

The midweek game was a welcome relief for Diggins, who stresses momentum and rhythm as the keys to victory in baseball.

"When we practice all week, we tend to lose our flow," he said. "Of course, it helps that we won."

The Wildcats return to Pac-10 play as they host Oregon State in a weekend series this Friday, Saturday and Sunday.

Arizona then goes on the road for its three remaining Pac-10 series.

"This weekend is pivotal," Diggins said. "We have a whole lot of momentum."

Ryan Finley can be reached at Ryan.Finley@wildcat.arizona.edu.