UA head softball coach 'pissed off' about split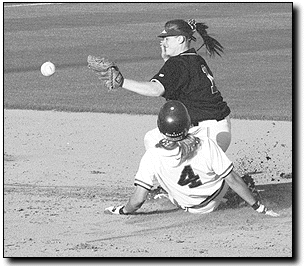 Matt Heistand
Arizona Daily Wildcat

UA sophomore center fielder Nicole Giordano (4) steals second base during the first game of the doubleheader with CS-Northridge yesterday at Hillenbrand Stadium. Arizona split the games, winning 9-1 and losing 5-3.


When is a split not a split? When it comes against Cal-State Northridge.

The Arizona softball team (33-5 overall, 5-1 Pacific 10 Conference) took one game of last night's doubleheader against the hapless Matadors (17-19), a team that has been swept this year by, among others, Cal-State Sacramento.

"We just didn't get the job done," UA head coach Mike Candrea told his team in a postgame tirade. "Look at them, they're celebrating a split. That pisses me off."

The first game of the twinbill went to the Wildcats by the score of 9-1, ending after five innings according to the NCAA mercy rule.

UA sophomore third baseman Tony Mascarenas hit a three-run homer and had four RBI en route to a thrashing of North-ridge.

"We went out there, won 9-1, and then just sat on our butts for the second game," Candrea said.

A two-run shot by UA junior right fielder Chrissy Gil ended the game early in the fifth.

Sophomore pitcher Becky Lemke (18-3, 1.15 ERA) was near perfect, despite a home run by CSUN's Ui Bal in the top of the fifth breaking up both the shutout and the no-hitter. After the first game, the confident Wildcats appeared headed towards a sweep.

However, Arizona would not get off that easy in the second game.

Freshman pitcher Jennie Finch (15-2, 1.50 ERA), Jump magazine's 1998 high school recruit of the year, was not true to form as she allowed five earned runs on six hits for the game.

"Every Arizona batter tonight seemed to be an easy out," Candrea said. "Northridge fought us. A few walks, an error and before you know it, they're up 5-2."

The Wildcats failed in a comeback attempt in the seventh. A leadoff single by first baseman Erika Hanson got the ball rolling with no outs.

However, Northridge pitcher Tara Glaister (11-10, 1.93 ERA) struck out sophomore shortstop Felicity Willis and got both sophomore center fielder Nicole Giordano and junior second baseman Katie Swan to fly out, ending the game and handing the Wildcats their second loss at home this season. UA lost one game at home last season, a year that saw them reach the NCAA finals.

"We didn't make plays, didn't swing the bat, and didn't shut anyone down," Candrea said. "We need to get tougher."

This was not the time for the Wildcats to have an off-night. The softball team travels to Westwood tomorrow to take on No. 1-ranked UCLA and then is off to face No. 4-ranked Washington Saturday in what is being billed as one of the biggest roadtrips of the season.

"Every roadtrip is important," Candrea said.

"We can't go out there and play like we did in the second game tonight," he added.