Portrait of a Photographer
By Eric Swedlund
Arizona Daily Wildcat
April 9, 1999


Send comments to:
letters@wildcat.arizona.edu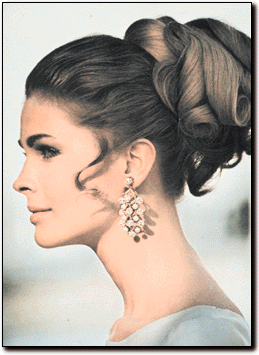 Photo Courtesy of Dan Budnik
Arizona Daily Wildcat

Candice Bergen at the age of 17 in 1963.


As U.S. Secret Service guards pulled him by the collar, Dan Budnik managed to bring the image of former President Dwight Eisenhower into focus for a split second and clicked the shutter.

Weeks later, in the early 60s, an intimate portrait of Eisenhower - his shoulders slouched in a moment of relaxation as he examined a painting - was published in Life Magazine.

Budnik had scooped all the Life photographers in producing one of the best images from his renowned career as a photographer.

"Life is very chaotic," Budnik said. "If you can stop life with a still, when it's successful, there's nothing quite like it."

Budnik, 65, started his career in photojournalism in 1958 and has photographed celebrities and American heroes such as Dr. Martin Luther King Jr., Georgia O'Keefe, Eisenhower and football Hall-of-Famer Terry Bradshaw.

"A lot of photography is having your own belief system," Budnik said. "Photography is all about energy. I look for energy, whether it is loud or quiet, it doesn't matter, and what lies beneath the surface."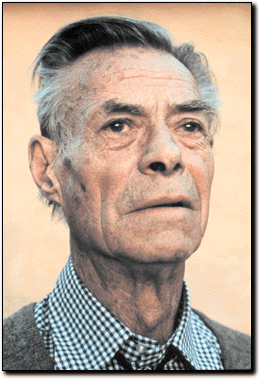 Photo Courtesy of Dan Budnik
Arizona Daily Wildcat

Writer Frank Waters, outside his home near Taos, New Mexico in 1982.

The photojournalist ventured to the University of Arizona's Center for Creative Photography Tuesday to share the story of what goes on behind the camera lens.

Budnik's visit comes in conjunction with the center's current exhibit, "A Retrospective," by Philippe Halsman, a celebrity photographer for Life Magazine in the 1940s and '50s.

Budnik worked as Halsman's assistant, and later ventured into fashion and medical photography during his eclectic career. He worked for magazines including Life, Sports Illustrated and Vogue, and contributed to the Time Life series on the Sierra Madres and Rome.

Born in Long Island, N.Y., Budnik studied at the Art Students League in New York City in the late 1950s. Marking a lifetime of shutter clicks and stolen moments, Budnik won the American Society of Media Photographers Honor Award in September for his accomplishments.

A Tucson resident and successful journalistic and documentary photographer, Budnik presented a slide show and a hint of 40 years worth of anecdotes Tuesday night in a speech titled "Beyond the Surface" at the CCP Gallery.

Budnik told audience members of the time he missed a photograph of Eleanor Roosevelt running while she lifted her dress up - one that he said would have surely been a Pulitzer Prize winner.

"I learned the art of frustration," he said, describing what he considered to be a blown opportunity.

Budnik said some of his favorite portraits are of Martin Luther King Jr. because of his interest in the civil rights movement.

One picture showed King standing, with a placid expression, as his bodyguard stood defensively in the background. The shot was taken just days prior to the Montgomery freedom march in 1965.

Another depicted King sitting in Brown Chapel in Selma, Ala. - a personification of peace, he said.

Budnik said his work is filled with diversity because a portrait can be the back of a person, a hand or anything that captures the essence of a person.

Another of Budnik's portraits of King was taken minutes after his famous "I Have a Dream" speech, while King was stuck in Washington, D.C. traffic. Budnik said King again was serene amidst the turbulent times of the civil rights movement.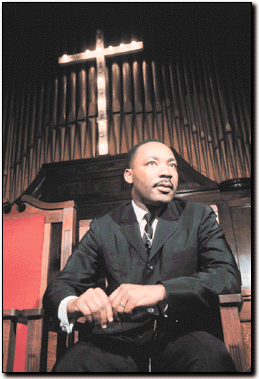 Photo Courtesy of Dan Budnik
Arizona Daily Wildcat

Dr. Martin Luther King Jr. at the Brown Chapel in Selma, Ala. taken in March of 1965.

Budnik also told of 17-year-old actress Candice Bergen, who was so concerned with her newly-done hair that she did not sleep a wink before a sunrise photo shoot.

Budnik showed a slide of actress Sophia Loren, captured as she turned around to look at herself in the mirror while sitting in a booth.

"There wasn't a mirror she didn't love," Budnik said about the famous actress.

Budnik also supplied the photographs for the Book of Elders, which examined the lives and struggles of Hopi elders living in Arizona.

While in Australia, he photographed homeless Aborigines, surprising a group as they woke up at sunrise. Budnik said the moment was tense until one of the men introduced himself as Hank Williams.

Terry Pitts, the center's director, called Budnik a classic storyteller and unique photographer. Pitts contrasted the style of Halsman and Budnik, saying that the latter focuses on long-term projects rather than trying to capture just a few images.

"We're all pretty amazed that we have such a great photographer in town," Pitts said. "He has a story about everything."

He said the CCP has received a number of contributions from Budnik, and has more than 50 of his prints in the archives.

Budnik, whose first contact with the CCP came when he moved to Tucson in 1978, collaborated with fellow Tucson resident and novelist Edward Abbey on a series of portraits.

"Photography has been a great odyssey," Budnik said. "It was a great way to see the world."