UA prof defends alternative medicine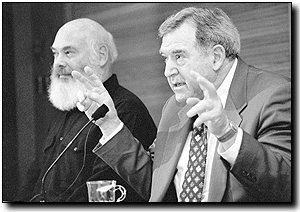 Eric M. Jukelevics
Arizona Daily Wildcat

Andrew Weil (left) and Arnold Relman (right), debate the virtues of integrating alternative medicine concepts to medical school curriculums Friday at the Arizona Cancer Center. Relman argued the need to hold off changing medical school curriculum until scientific proof can be garnered.


The UA's integrative medicine director told a top U.S. physician Friday night that alternative healing instruction should be incorporated with conventional teachings in medical schools.

Dr. Andrew Weil, director of the University of Arizona's program in integrative medicine, and Dr. Arnold Relman, former editor of the New England Journal of Medicine and critic of alternative medical methods, argued the credibility of alternative therapy. The debate was moderated by Dan Rutz, senior medical correspondent for CNN.

Weil, a renowned authority in the field of alternative medicines and author of seven books on the subject, said medical schools should begin teaching students about these methods of healing.

"People's first choice is going to doctors who are trained to give them choices," Weil said. "They want physicians who can act as a guide or an adviser to alternative methods of medicine."

Relman spent the entire 90-minute debate asserting the need to hold off changing medical school curriculum until scientific proof on the effectiveness of integrative medicine can be garnered - something he does not think will happen.

"Medicine should be based on the best available scientific evidence and concepts which are consistent with what we know about the nature of the body and biological sciences," Relman said at a press conference before the debate.

"I don't see how our medical schools could make use of such a hodgepodge. It is irrational and fanatical thinking that violates basic modern medicine principles," he added.

Alternative medicine involves a variety of concepts and practices, from the use of herbal remedies and osteopathic manipulation to acupuncture, meditation and music. The combination of these methods with traditional methods of science is referred to as integrative medicine.

Weil has said his goal is to create a situation where the traditional and alternative can exist together to improve the options available for patients. Relman wrote an extensive article in the New Republic in December, saying medical schools should not head toward alternative medicine.

Weil said although alternative methods are not yet backed by data collected through scientific research, the treatments are still effective.

"In my experience, many patients use an alternative method because they found it works, and (they) don't need additional proof for efficacy," Weil said.

The UA professor said personal experience and observation should be considered when determining if a method of healing is effective, as should the power of the mind. Relman said the latter could not be counted on to heal all types of sickness.

"We know states of mind - emotions - can have physical consequences, but can such things cure organic disease and make tumors disappear or warts fall off?" Relman asked. "Will that cure disease? Maybe, there just is no data."

The debate, which took place in the DuVal Auditorium at the University of Arizona's Health Sciences Center, was part of a two-day conference titled, "Healing Arts: Medicine, Ethics, Humanities." The event was attended by 300 conference participants.

The two doctors began arguing their view points during a one-hour press conference before the debate and continued during the main event. Relman talked about the need for substantive scientific research and used prepared statements when possible, while Weil incorporated anecdotes, success stories and views on consumer demand to make his point.

"Patients have been going in unprecedented numbers to non-traditional approaches," Weil said. "We need to take this consumer movement seriously."

Weil has expanded the UA's integrative medicine program over the past few years, from one fellow in 1997 to four last year. He recently received a $5 million, five-year grant from the National Institute of Health to study the effects of alternative medicines on children.

Relman said he supported Weil's investigation of alternative methods of medicine, but did not think it would produce the evidence needed to make the teaching of them in medical school teaching necessary.

"Alternative methods belong in the past," Relman said. "It is old wine, albeit served in new bottles."