Wildcats set to close out Grand Canyon series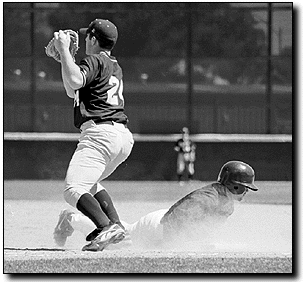 Eric M. Jukelevics
Arizona Daily Wildcat

Sophomore shortstop Keoni DeRenne slides back to first base during a game against Oregon State. DeRenne, who was named the Pac-10 player of the week, plays today against Grand Canyon in Phoenix.


The UA baseball team will head to Phoenix tonight to play the Grand Canyon Antelopes in probably the most important transition game between Pacific 10 Conference series this season.

The game will take place at Brazell Stadium on the campus of Grand Canyon University with the first pitch scheduled for 7 p.m.

The Wildcats (25-16, 7-8 Pac-10) are currently riding a five-game winning streak and have a legitimate opportunity to extend that to nine or possibly 12 with their next two series being at Washington State and home against Southern Utah.

While the thought of Washington State might be on the minds of some of the players, they first have to get by the Antelopes (31-13 overall), a team they have beaten twice this season by scores of 11-1, and more recently 13-1 last Tuesday.

"Everybody knows how important it is," said sophomore shortstop Keoni DeRenne, who was recently named Pac-10 Player of the Week. "We can't relax or we'll get beat. They are not a bad team and they will want to beat us on their field."

The Wildcats will look to junior Tony Milo to start the game on the mound, but head coach Jerry Stitt said freshman Brian Pemble, sophomore Wesley Zlotoff and junior Mike Meyer will all see action as well.

Usually when the Wildcats play these Tuesday non-conference games against Grand Canyon they look to their backups to give the starters a rest.

But, since they are in the midst of a winning streak, altering the lineup is not even a consideration for the coaching staff.

"We want to keep the lineup intact, but we might move a couple guys around. We want to get Rafell (Jones) in the game because he is really important to us," Stitt said.

Tonight's contest will be the first road game for the Wildcats since their March 19-21 series at Southern Cal where they lost two of three.

"We are looking forward to going on the road," DeRenne said. "Playing at home is nice, but it is good for us to travel as well."