The long run
Correction
Due to a reporting error in Wednesday's Century Series, "The Long Run," Jerry Kindall, UA baseball coach from 1973 to 1996, was incorrectly identified. The Wildcat regrets the error.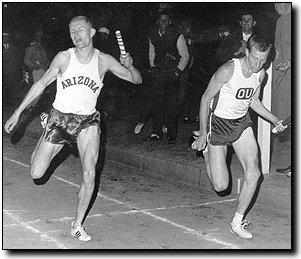 Arizona Daily Wildcat
Photo Courtesy of the Desert Year Book 1977 Jerry Kindall, former UA baseball coach
Former UA athletic director Cedric Dempsey just can't get the Wildcats out of his system.
"Even though I'm supposed to be impartial, I must say I've still got a lot of red and blue blood in me," said Dempsey, who now serves as NCAA president.
When Dempsey came to the UA in 1982, he inherited a program that had pulled itself up from the Western Athletic Conference into the Pacific 10 Conference just four years earlier.
The UA's admittance into the Pac-10 is considered to be a milestone in the rise of both UA athletic and academic standing.
"The Pac-8 to the Pac-10 gave the national recognition and changed the direction of Arizona athletics," said Dempsey, who served at the UA until 1994. "If you're successful in the Pac-10, you can be successful anywhere in the country."
Former UA President John Schaefer and former Athletic Director David Strack were responsible for orchestrating the university's convergence with the Pac-10.
After the move, the university was connected with some of the most reputable schools in America.
"My feeling was the university should associate athletically with the same institutions that it wanted to associate with academically," said Schaefer, who served as president from 1971 to 1989.
"The conference linkages go beyond athletics. There are a lot of academic links, and those are the things that I was trying to promote. And the financial opportunities were far more attractive."
Track and field
Dave Murray, who ran track for the UA from 1962 to 1964, said Arizona always dominated in his sport.
Murray, the track and field head coach since 1967, said the UA and Arizona State University dominated during the first half of the century.
But despite the UA athlete's prowess in track, a comparison between the 1960s and now was like "night and day," Murray said.
"When I ran there, we ran on a dirt track that was probably the worst facility in the entire country," he said.
Today's UA track and field athletes have modern facilities like the Roy P. Drachman Stadium, but Murray said he and his peers shared Arizona Stadium with the football team.
"There were footballs bouncing everywhere (during practice)," he said. "Obviously when it came to football and track and field, football won out."
And when it came time to travel to a meet, there were some slight differences.
"In terms of travel, back in those days we traveled everywhere in UA station wagons," Murray said. "It was tough on athletes to be constantly traveling back and forth and making 1,000 to 1,200 mile road trips every other week."
Women's emergence in UA sports
The most significant development for UA women's athletics was the passage of Title IX in 1972 by the U.S. Department of Education.
The law prohibits sex discrimination in institutions receiving federal funding, and it blew the doors of opportunity open for female athletes.
"Prior to '72, we got money from ASUA (the Associated Students)," said Katherine "Rocky" LaRose, who played softball from 1977 to 1979. "Within five years our budget was $250,000. By the end of that decade, it was $750,000 closing in on $1 million."
LaRose, who serves as an assistant UA athletic director, said she was among the first female athletes to be offered a scholarship.
"To be one of the first few women to receive a scholarship was like winning the lottery," she said.
UA softball has seen many changes since her time on the team, LaRose said. But Tucson and Phoenix have a history of being competitive in the sport.
"We had some competitive teams in the 1970s, that's for sure," she said. "We certainly didn't have the team support that the teams do today, and we certainly didn't have the talent."
The UA softball program has been the country's dominant program this decade. The team won national championships in 1991, 1993, 1994, 1996 and 1997, and finished second in the College World Series in 1992, 1995 and 1998.
LUTE olson and cedric dempsey
UA Men's Basketball Coach Lute Olson said the two most crucial ingredients in the university's current athletic status were the entrance into the Pac-10 and the hiring of Dempsey.
"I think (first) this school joined the Pac-10 where there would be more exposure" said Olson, who has served as coach since 1983. "Secondly, in terms of prestige, suddenly you've got athletes in California and other states - it's different going to a school in the Pac-10 than in the WAC."
Dempsey said the average attendance at a men's basketball game was 3,500 people when he hired Olson.
"Within two years the place was sold out and it's been sold out ever since," he said.
But Olson's decision to come here was not an easy one. The year before his arrival the UA went 9-18.
"It was not easy to leave a top 10 program for probably a bottom 10 program at that time," he said, adding he left a lifetime contract in Iowa for a one year deal. "In a way it was sort of stupid to do what we (he and his wife Bobbi) did."
Olson said while a winning record and 15 consecutive NCAA Tournament appearances were key elements in generating fan support for his team, other factors such as upstanding players also contributed.
"The community has to be convinced that the program is a quality program," he said. "There's a loyalty that goes both ways there."
But Olson acknowledged that a winning record is equally important.
"I'm not foolish enough to think that you can go 3-27 for an extended period of time and still sell out the arena," he said. "Ever since that Final Four appearance in '88 not only is it hard to get a ticket, it's the toughest ticket you can attempt to get in Tucson."
baseball
UA Baseball has always enjoyed a degree of national prominence.
The team won three national championships - in 1976, 1980 and 1986 - all under former coach Jared Kindall.
"Our 1976 national championship baseball team was the first national championship in any sport," said Kindall, who coached from 1973 to 1976.
Current UA Baseball Coach Jerry Stitt, who played at the UA from 1966 to 1968, said his sport has had the longest tradition at the university.
"We've always been a baseball power," he said. "I believe we're the only baseball power in the country that has been ranked number one, one year of every decade since the '20s."
Regardless of how people feel about college sports, Schaefer said, they are an integral ingredient in a university's success.
"In American universities, college athletics are extremely important whether you like it or not," he said. "You got to play the cards that are dealt to you."