Wildcat Habitat for Humanity works toward its first house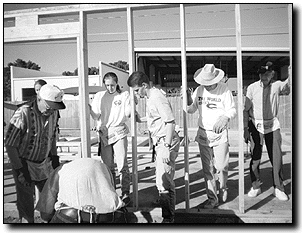 Arizona Daily Wildcat

Photo Courtesy of Wildcat Habitat for Humanity Freshman physics, astronomy and German major Karen Carter and public management junior Daryl Nauman help community members work at a Habitat for Humanity site. Nauman is the president of Wildcat Habitat for Humanity, which is working toward its first UA-sponsored house.


Members of the UA chapter of Habitat for Humanity are looking for a home of their own.

But they won't be living in it.

The Wildcat Habitat for Humanity chapter (WHFH) is banding together with other campus groups to organize the first annual "Wildcat Habitat for Humanity Challenge," a contest between participating clubs to raise enough funds for the construction of the first all University of Arizona-sponsored Habitat house.

The challenge, which began April 1 and runs until the end of the month, was driven by a desire to create Habitat for Humanity awareness.

"Building the first WHFH-sponsored house is an ideal long-term goal for our club," said Daryl Nauman, the club president. "We decided that along with helping the community, we needed to spread the word about Habitat for Humanity."

Groups participating in the challenge vie to raise the most funds - with all donations going toward the UA-sponsored house. The clubs that contribute the most will be invited to assist in the building's construction.

The timeline for the home's construction depends on how quickly sufficient funds can be raised.

"It could be a few months from now or it could be over a year," Nauman said.

The house will be given to a low-income family and is expected to cost at least $15,000, prompting organizers to open up the fund-raising to all students, he said.

"We recognized that in order to raise $15,000, it was going to take a little more than a few small fund-raisers here and there," said Challenger Coordinator Cheri Blauwet. "We needed something big, something campus-wide that could unite our student body into helping us reach our goal."

While student interest has not yet reached organizers' expectations, they are optimistic that it will soon peak.

"I believe that many more (clubs) are planning to participate and have simply not contacted us yet," Blauwet said.

Any method of raising money is acceptable, or clubs may simply elect to donate from their own treasuries, she said.

Carole Baumgarten, executive director of the Tucson Habitat for Humanity chapter, said the Wildcat chapter also extends its philanthropy to the greater Tucson community.

"They are very active," Baumgarten said. "It's a very aggressive goal to raise the amount of money they're trying to raise, but they're a great group of students."

The ultimate motivation for Blauwet, however, keeps the organization's humanity aspect in focus.

"Sometimes I imagine a small child sitting and shivering in a cold, run-down shack," she said. "Through Habitat for Humanity, that child can live in a safe, comfortable home. If raising this $15,000 puts one child and his or her family into a home, then all the work is worth it."