Area eatery owners voice concern about smoking ban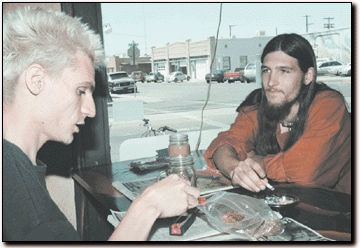 Randy Metcalf
Arizona Daily Wildcat

Tim Brick (left) and Don Butz both enjoy a cigarette at the Aroma Caffe yesterday afternoon. The city council passed a smoking ban Monday with a 4-3 vote. As of Oct. 1, all restaurants will not be allowed to have a smoking section without proper modifications.


When Serge Gongora opened The Aroma Caffe three years ago, he knew smoking could hurt his health - but not his business.

Since the Tucson City Council's decision to ban smoking in local eateries, Gongora, owner of The Aroma Caffe & Coffee Sales, 346 N. 4th Ave., is one of many restaurant owners afraid of losing business.

"Eighty percent of my customers are smokers," Gongora said.

The Aroma Caffe has a restaurant license so it will have to go smoke-free starting Oct. 1.

"I'm just selling coffee, but what do you do?" he said. "All coffee houses are registered as restaurants."

The City Council's decision Monday had Matt Graham, manager of Geronimoz' Restaurant & Bar, 800 E. University Blvd., wondering how the city would determine if his establishment will be included in the ban.

The ordinance bans smoking in eateries that garner more than 50 percent of their revenue from food sales.

"I only support it (the ban) if it's equal for establishments of all likes and kinds," he said.

Graham asked if the city would need access to Tucson restaurants' personal financial records to determine if they will be affected by the ban.

He expressed concern about owners' privacy, and said it was unclear whether the city may need to use financial documents to determine if the establishment gains more than 50 percent of its revenue from food sales.

The restaurant portion of Old Chicago, 2960 N. Campbell Ave., is already smoke-free, but the adjacent bar area will fall under the ban's regulations in October.

There is no possible way that Old Chicago's bar area could comply with the ban and allow smoking, said Doug Besant, regional manager. An indoor smoking area has to be physically separated and independently ventilated from the smoke-free areas, according to the ordinance.

"We (restaurant owners) take the heat and the City Council doesn't." Besant said. "Probably you'll only be able to smoke in the patio area."

The ordinance also states that a designated outdoor smoking area has to be at least 15 feet away from the exits and entrances of the establishment.

Ian Broome, manager of Gentle Ben's Brewing Co., 865 E. University Blvd., said the restaurant is already smoke-free, but managers will have to research the ban to see if smoking can be permitted in their upstairs bar area.

"Upstairs has a separate ventilation system and there's no way smoke can get from upstairs down to the restaurant," he said.

Broome said he is not concerned about the ban because half of Gentle Ben's is outdoors and he would still be able to accommodate everyone.

"Maybe if we didn't have such a large patio, it (the ban) would be more of an issue," Broome said.

Nick Dashkiwsky, manger of Bison Witches Bar & Deli, 326 N. 4th Ave., said the restaurant attracts many smokers.

"Personally, I think it (the ban) will affect business once it goes into effect," he said. "We have a patio in the back, but I'm not sure if the owners will make it the smoking section or not."

A few UA students praised the council's decision and said the ban would not stop their patronage of local restaurants.

"I really don't think businesses will suffer," said Andrew Ellingwood, a business sophomore. "If people like the food, they'll still go to the restaurant."

Roshni Mehta, a microbiology junior, said it's "rude" to smoke in a restaurant.

"If you want to smoke, go to a bar or outside," Mehta said.

Heather Ferrea, a microbiology junior, said she disagrees with the principles behind the council's decision.

"Restaurants are private institutions and they should have a right to do what they want," she said.