Join The Circus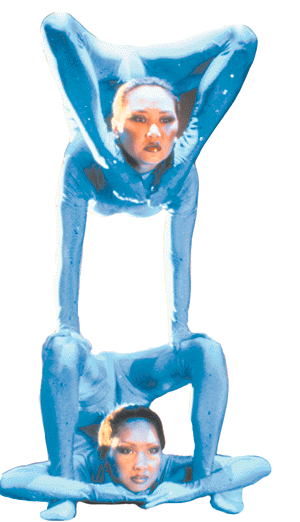 Arizona Daily Wildcat

Cirque Ingenieux brings majestic performance to UA theater


This weekend, the Centennial Hall stage will be transformed into a realm of magic as mystery as the touring production of "Cirque Ingenieux" arrives in Tucson, courtesy of UApresents.

Inspired by the same European tradition that brought us the "Cirque du Soleil" phenomenon, "Cirque Ingenieux" combines the acrobatics, choreography, music and mysticism of it's predecessor with the storytelling appeal of a Broadway show.

Instead of merely displaying performance art to the audience, "Cirque Ingenieux" tells a tale, as well. It's the story of a young girl named Sarah, who fantasizes about becoming a circus performer one day. A night under the big top brings her into a world she has only dreamed of, filled with fantastic performers achieving even more fantastic feats.

"Cirque Ingenieux" has received a huge amount of media attention and acclaim since its inception in 1995, including having its own special on PBS.

The show was thought up by Broadway veteran Neil Goldberg, who brought it to fruition along with producer Kenneth Gentry. Featuring an original score by New Age composer Kitaro, performed by a live orchestra and choreography by "Cirque du Soleil" contributor Catherine Archambault, "Cirque Ingenieux" promises an elaborate experience of both visually and musically compelling moments.

There will be four performances of the show at Centennial Hall, Saturday at 4 and 8 p.m. and Sunday at 2 and 7:30 p.m. Free "Arts Encounters" led by local performers will be held on the Centennial Hall West Patio 45-minutes before the afternoon shows, and in Room 102 of the Center for English as a Second Language 45-minutes before the evening shows.

For more information on "Cirque Ingenieux," check their Web site at www.cirquetour.com, or visit the UApresents site at uapresents.arizona.edu.