McAlister goes to Ravens with No. 10 pick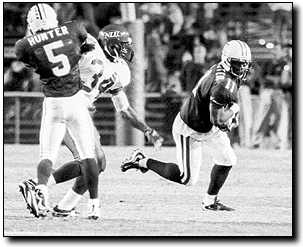 Wildcat File Photo
Arizona Daily Wildcat

Senior cornerback Chris McAlister (11) takes a handoff down the field during the 45-7 win against Northeast Louisiana. McAlister was picked at No. 10 in the first round of the NFL Draft Saturday by the Baltimore Ravens.


Former UA All-American cornerback Chris McAlister sat at his mother's house in Las Vegas Saturday, surrounded by a loud and boisterous crowd of people.

They were celebrating McAlister's selection by the Baltimore Ravens with the No. 10 pick in the first round of the NFL Draft.

McAlister, though, was as calm as ever.

"It's nothing special," he said. "It's just football at another level."

Projected to go somewhere between the fifth and 11th picks in the draft, McAlister wound up going to a Ravens team where he will start alongside future NFL Hall of Famer Rod Woodson in Baltimore's secondary.

"The Ravens were fortunate to get Chris McAlister out of Arizona," ESPN draft analyst Mel Kiper said in a statement released Saturday. "This defensive back just glides. He's so

effortless in his motion. He has a sense of what's going on and a great burst to go with the anticipation in coverage."

McAlister left Arizona as one of the school's most hailed players. He had seven interceptions, two in the Holiday Bowl win over Nebraska, and 15 passes broken up as he was a consensus All-American in 1998. He was the unquestioned leader of Arizona's secondary, leading the Wildcats to a school-record 12-1 season and a No. 4 national ranking.

"Not even," McAlister said in regards to the Ravens being a surprise. "I knew Baltimore wouldn't let me slip to No. 11. We'd talked a lot earlier this week and I knew they were going to take me."

Most analysts had McAlister going to the Minnesota Vikings with the No. 11 pick, but Baltimore snatched him up first. He was the second cornerback selected after Georgia's Champ Bailey went to Washington with the No. 7 pick.

UA head coach Dick Tomey said he wasn't surprised with McAlister's selection, either.

"It's very gratifying (for me)," Tomey said. "As I've said repeatedly I had a chance to work with Chris' dad when he came out and know the family for so long. To see the kind of player he became was wonderful. He's going to be handsomely rewarded now for all his hard work."

McAlister said he is expecting to walk into camp with a job waiting for him.

"I see myself walking in right away as a starter," he said.

Kiper agreed.

"Great players make the great plays, and he makes a lot of them," Kiper said. "He only spent two years at Arizona, but he made the most of them. He's a big corner, and he'll allow the Ravens to move Rod Woodson to safety."

ESPN's Joe Theismann echoed Kiper's comments.

"The key here is Woodson," Theismann said. "He'll be able to teach him like a big corner how to play out there. They have a really solid secondary now. The addition here is a big plus for the Ravens."

ΚΚ

Three other former Wildcats were taken yesterday in the later rounds of the draft.

Offensive guard Yusuf Scott, who left school early, was taken in the fifth round by the Arizona Cardinals with the 168th pick. His linemate, tackle Edwin Mulitalo, actually went earlier with the No. 129 pick to the Ravens.

Another offensive line starter, tight end Mike Lucky, was the final Wildcat taken with the No. 229 pick to the Dallas Cowboys.

Four Wildcats will have to go the free agent route if they wish to play at the next level, with wide receiver Jeremy McDaniel, defensive tackle Daniel Greer and fullbacks Kelvin Eafon and Paul Shields not getting drafted.

"Getting drafted doesn't mean you've made it, but you're going to have a shot," Tomey said.

Two Wildcats, WR Rodney Williams and OT Jose Portilla, did make NFL rosters as free agents in 1998. Williams signed on with the Oakland Raiders and Portilla went to the Super Bowl with the Atlanta Falcons.

Tomey said his only advice to the Wildcats who were drafted later on is to "work your butts off because nothing is guaranteed."

Scott's selection by the Cardinals was not a surprise, and was in fact what he had been hoping for, Tomey said.

"I know Yusuf wanted to go there," he said. "It's an important thing for him because he's engaged to Lisa (Griffith, UA basketball player) and he wants to be married.

"I think that's really wonderful for him, but he's got to work really hard to make the club."

Tomey said there is a lesson to be learned for the current Wildcats from the draft.

"I think the most sobering thing for the players coming back is how difficult it is to get picked high," he said. "To see Yusuf, who won the Morris Trophy, go in the fifth round is something they need to take note of."

Chris Jackson can be reached at Chris.Jackson@wildcat.arizona.edu.
NFL Draft First Round selections
Team, player, position, college
1. Cleveland, Tim Couch, qb, Kentucky.
2. Philadelphia, Donovan McNabb, qb, Syracuse.
3. Cincinnati, Akili Smith, qb, Oregon.
4. Indianapolis, Edgerrin James, rb, Miami.
5. New Orleans (from Carolina through Washington), Ricky Williams, rb, Texas.
6. St. Louis, Torry Holt, WR, North Carolina State.
7. Washington (from Chicago), Champ Bailey, db, Georgia.
8. Arizona (from San Diego), David Boston, wr, Ohio State.
9. Detroit, Chris Claiborne, lb, Southern California.
10. Baltimore, Chris McAlister, db, Arizona.
11. Minnesota (from Washington), Daunte Culpepper, qb, Central Florida.
12. Chicago (from New Orleans through Washington), Cade McNown, qb, UCLA.
13. Pittsburgh, Troy Edwards, wr, Louisiana Tech.
14. Kansas City, John Tait, ot, Brigham Young.
15. Tampa Bay, Anthony McFarland, dt, LSU.
16. Tennessee, Jevon Kearse, lb, Florida.
17. New England (from Seattle), Damien Woody, c, Boston College.
18. Oakland, Matt Stinchcomb, ot, Georgia.
19. New York Giants, Luke Petitgout, ot, Notre Dame.
20. Dallas (from New England through Seattle), Ebenezer Ekuban, de, N. Carolina.
21. Arizona, L.J. Shelton, ot, Eastern Michigan.
22. Seattle (from Dallas), Lamar King, de, Saginaw Valley State.
23. Buffalo, Antoine Winfield, db, Ohio State.
24. San Francisco (from Miami), Reggie McGrew, dt, Florida.
25. Green Bay, Antwan Edwards, db, Clemson.
26. Jacksonville, Fernando Bryant, db, Alabama.
27. Detroit (from San Francisco through Miami), Aaron Gibson, ot, Wisconsin.
28. New England (from New York Jets), Andy Katzenmoyer, lb, Ohio State.
29. Minnesota, Dimitrius Underwood, de, Michigan State.
30. Atlanta, Patrick Kerney, de, Virginia.
31. Denver, Al Wilson, lb, Tennessee.