Track team wins 12 events at Elite Classic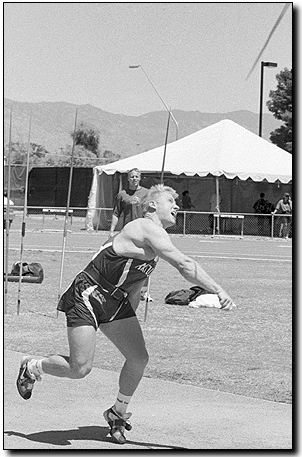 Nicholas Valenzuela
Arizona Daily Wildcat

Sophomore Ola Larsen throws a javelin during competition Saturday at the Arizona Elite Classic at Roy P. Drachman Stadium. Larsen won the men's javelin throw with a toss of 226-feet, 3-inches (68.96m).


The UA track team hosted the Arizona Elite Classic this weekend with 12 UA athletes winning events among a field that featured teams from Oregon and Arizona State as well as athletes from the professional ranks.

A handful of distance runners also competed this weekend, running at the Mt. SAC Relays in Walnut, Calif., and provisionally qualifying four runners.

"We had a good weekend overall," UA head coach Dave Murray said. "I was happy with the performances at both meets."

Freshman Brianna Glenn won both the long jump competition and the 200-meters. Glenn's time of 23.88 seconds was the fifth fastest time in school history. In her first race back from a hamstring injury sustained at the Texas Relays two weeks ago, junior Carolyn Jackson won the 400m with a time of 53.46. The Elite Classic was what associate head coach Fred Harvey called Jackson's "first speed work" since the hamstring injury.

Senior Shanna Griffin won the 800m with a time of 2 minutes, 6.40 seconds and ran a personal best by more than two seconds in the 400m. Griffin's 800m was one of the fastest this season in the collegiate ranks and should send Griffin to the NCAA Championships.

In field events for the women, junior Andrea Neary won the women's pole vault with a mark of 11-feet, 3 3/4 inches, and freshman Maureen Griffin won the hammer throw with a toss of 177-feet, 6-inches (54.10m). Junior Mandy Shefman won the discus throw with a toss of 147-8 (45.02m).

Sophomore Ola Larsen won the men's javelin throw with a toss of 226-3 (68.96m) and junior Warren Peters won the high jump with a leap of 6-10 3/4, tying his season-best mark.

Junior Nicole Thomas and sophomore Rori Kelly placed 1-2 in the 100m high hurdles.

"We had a lot of good individual performances today," Harvey said.

Two events, the men's pole vault and 100m dash, showcased some of the professional talent that was at the Elite Classic.

The men's pole vault competition witnessed two professional vaulters battling toward a Drachman Stadium record. Reebok's Ryan Barkdull and former UA athlete Dominic Johnson matched vault for vault until Barkdull exploded off the runway to clear 18-6 4/3, a new stadium record.

Nike-sponsored sprinter Tim Harden, a former Olympian and USA champion, blew away the men's field in the 100m, winning the race with a time of 10.24. At the Mt. SAC Relays, four UA distance runners ran NCAA provisional qualifying times.

Senior Abdi Abdirahman, who has been battling back from a stress fracture in his left foot, qualified provisionally in the men's 5,000m with a time of 13:49.66, just off the NCAA automatic qualifying mark of 13:48. Abdirahman finished 18th in the race, but was the fifth collegiate competitor to cross the finishing line due to the amount of professional athletes competing at the relays.

Junior Micheil Jones finished third in the men's 5,000m with a personal best and NCAA provisional qualifying time of 14:04.44.

Freshman Tara Chaplin battled pains in her side and calves to finish with an NCAA provisional time of 34:35.11 in the 10,000m.

Senior Brooke Murphy provisionally qualified in the women's 10,000m, finishing seventh with a time of 35:38.40.

"It was a good meet with four of our distance runners qualifying provisionally," Murray said. "Out of those, I expect two of three to actually be fast enough for the NCAAs."

The Wildcats will next travel to the Drake Relays in Des Moines, Iowa, this Friday and Saturday.