Gingrich leading UA to wins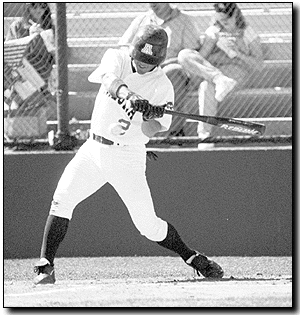 Ian C. Mayer
Arizona Daily Wildcat

Junior outfielder Troy Gingrich (2) takes a swing during a game earlier this season. Gingrich is batting .341 this season and is leading the team with five triples.


He's leading the batting line-up and UA junior center fielder Troy Gingrich is leading his team by example with his offensive and defensive play.

"He's a good center fielder," UA head coach Jerry Stitt said. "It's been a long time since we had one (center fielder) as good as him."

Gingrich, along with freshman right fielder Shelley Duncan, combined for 22 of the Wildcats' (29-16 overall, 10-8 Pacific 10 Conference) 35 runs in their weekend series sweep of Washington State (17-19, 1-11). Gingrich went 7 for 17 with five RBI, six runs and two doubles.

"I just saw the ball well," he said. "The hits fell for me. I think it just goes back to a lot of hard work."

Gingrich's hard work hasn't gone unnoticed by the coaching staff.

"He had a great weekend," Stitt said. "When he was out of the line-up we were struggling, and when he's back in it, we're a different team."

For four weeks last month Gingrich was sidelined with a broken hand.

"I have no problems anymore," Gingrich said of his injury.

And that would appear to be true as Gingrich, the Wildcats' lead-off hitter and been a key contributor to the Wildcats' nine-game winning streak.

"Having him back in, and getting his swing back has had a good affect on us," Stitt said. "He's the catalyst of the team - hitting and bunting and getting the runs in when we need them."

Gingrich is batting .341 this season and is leading the team with five triples. He also has 22 RBI, 44 runs scored and 14 stolen bases.

"I just try to get on base every time and score runs," Gingrich said.

"And when we're in on defense, I take control of the outfield and try to lead the team by example."

Gingrich is expected to put his experience to the test in center field for the benefit of the new Wildcats, freshmen Duncan and left fielder Kenny Huff.

"He takes charge out there," Stitt said. "He keeps the other guys on their toes."

Gingrich will keep his focus on this weekend's last home series with Southern Utah, then shift his focus to away games at California and Arizona State.

"We're taking this weekend serious. We need the wins," he said. "Then we need to go 2 for 3 or better with Cal and ASU and then get to the Regionals."

Gingrich said the formula for getting to the NCAA Regionals is simple.

"I'm going to try and stay consistent," he said. "(I'm) going to do everything I can to help the team win."