Wildcats set to face Stanford in Pac-10 opener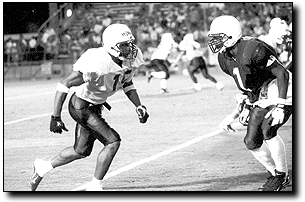 Nicholas Valenzuela
Arizona Daily Wildcat

Senior wide receiver Jeremy McDaniel (15) tries to get past junior free safety Rafell Jones (1) at a scrimmage Aug. 28. McDaniel made six catches for 90 yards at Hawaii and Jones was player of the game. The Wildcats play Stanford tomorrow at Stanford.


No football team likes to open with three of its first four games on the road, especially with one at a conference rival.

But that's the situation the Arizona football team faced when the 1998 schedule was released.

The Wildcats will face off with Pacific 10 Conference foe Stanford on the road tomorrow afternoon at 12:30.

"Stanford is the most important of our first four games," UA head coach Dick Tomey said. "Because it's conference, it's road conference. To get a win on the road against a conference opponent is something we covet."

Tomey guaranteed the Cardinal team that was upset by San Jose State last weekend 35-23 "won't be there.

"We won't find those guys," he said. "We're going to great lengths to make sure our guys know that. And the Arizona team that played Hawaii won't be there, either."

The Wildcats beat the Rainbows 27-6 last Thursday but had plenty of opening game mistakes that Tomey does not want repeated.

While Arizona has juggled its starting line-up on defense, with redshirt freshman Eli Wnek now starting at defensive end and sophomore Anthony Thomas taking over at right tackle, the Wildcats will go into Stanford, Calif., looking much like they did at Hawaii.

Tomey has kept talk of who will start at quarterback secret. Junior Keith Smith played better at Hawaii (17 of 22, 218 yards, two touchdowns) than sophomore Ortege Jenkins (3 of 11, 19 yards), but Tomey said he has no plans to ditch the two-QB system anytime soon.

As they did at Hawaii, Jenkins and Smith will split time in the first half evenly, with the better of the two taking the majority of snaps in the second half.

Last year Jenkins was 18 of 34 for 167 yards and four touchdown passes against the Cardinal in Arizona's 28-22 win in Tucson. Stanford had come into that game ranked 16th in the country and have not won a game since. The Cardinal are currently mired in a five game losing streak.

"I knew Coach Tomey's team was going to be good," Stanford head coach Tyrone Willingham said. "I was really impressed with the explosiveness of some of (Arizona's) skill players."

Among those Willingham referred to were senior cornerback Chris McAlister, who returned the opening kickoff for a 100-yard touchdown run, senior wide receiver Jeremy McDaniel, who had six catches for 90 yards including a 17 yard TD reception, and junior wide receiver Dennis Northcutt, who returned seven punts for 70 total yards and also added eight catches for 91 yards and a touchdown.

"I don't think it really matters to us," Northcutt said of the fact the Cardinal are coming off the frustrating loss to the Spartans. ""We've just to got to be extra conscious of the fact they're going to be fired up."

Junior free safety Rafell Jones, who was named player of the game last week by Tomey, said that Arizona expects to face a very different team in Stanford.

"A lot more passing," Jones said. "They threw over 50 times last week. They're also going to be trying to (get their) running game going."

Stanford's new quarterback, junior Todd Husak, threw 54 passes in his debut, the sixth most all-time for the Cardinal and the most ever by a player in his debut.

Husak was 29 of 54 for 298 yards with three touchdowns and two interceptions against San Jose State. The yards passing also set a school record for a quarterback in his debut, beating even such NFL notables as Jim Plunkett and John Elway.

"He did a great job," Tomey said. "He did a good job against Cal last year and has done a good job off the bench for them for a couple years."

The junior started because last year's starter, Chad Hutchinson, left school to sign a professional baseball contract with the St. Louis Cardinals.

"Husak's numbers were good enough for us," Willingham said, dismissing any talk of a controversy of who should start between Husak and sophomore Randy Fasani.

One player for Stanford who is certain to play is junior wide receiver Troy Walters, the top returning receiver in the Pac-10 after catching 86 passes for 1,206 yards in 1997.

"Troy had an average day," Willingham said of his game against SJSU, in which Walters had six receptions for 71 yards and a touchdown. "He'll have great days to come."

One concern for Willingham, as Jones noted, is the Cardinal's running game.

Junior Juan-Carlos Lacey rushed for a game-high 87 yards while splitting time with sophomore Coy Wire ran 13 times for 33 yards.

"We've used both of them interchangeably," Willingham said. "There's not any question if you can run the ball you have an enhanced chance against this (Arizona's) defense."

Arizona's running game, by comparison, will be even stronger this week with the return of junior Trung Canidate. He sat out the opener while still recovering from a stress fracture in his right foot.

Now healthy, Canidate gives Arizona another option in a backfield that already has senior Kelvin Eafon and sophomore Leon Callen.

Eafon rushed for 59 yards on 16 carries and a touchdown late in the game while Callen had 41 yards on 11 carries. Both struggled at times against Hawaii, but Canidate attributes that more to the fact the game was a season-opener than to the Rainbows' defense.

"It was the first game," Canidate said. "As the game went on they got more and more experience and started looking better."

The Wildcats get a break in their road travels as they host Iowa Sept. 19, at 7 p.m.

Chris Jackson can be reached via e-mail at Chris.Jackson@wildcat.arizona.edu.