Legislators, academia must secure equal opportunity, Likins says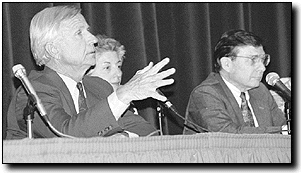 Ian C. Mayer
Arizona Daily Wildcat

Arizona State University President Lattie Coor (left) speaks during the Presidential Forum on Affirmative Action yesterday as Northern Arizona University President Clara Lovett (center) and UA President Peter Likins listen.


Scholars and lawmakers need to reevaluate the definitions of race and affirmative action policies to ensure future equal opportunity, UA President Peter Likins said last night.

Likins told the two state university presidents at the "Presidential Forum on Affirmative Action" that as the lines separating races blur, institutions must adapt the way they enforce equality laws through open discussion.

"We need to get this on the table and say things we might not be comfortable saying," Likins said. "We all know we have to develop new strategies."

The Bureau of Applied Research in Anthropology hosted the meeting, which was designed to discuss methods in which past affirmative action laws can evolve and remain effective.

Likins drew applause from the crowd of about 150 people when he insisted that such policies do not create "reverse discrimination," but eliminate unfair advantages.

He said that while past policies were effective, the concept of race has changed since early equal opportunity legislation, and schools, "can't use those old labels."

Northern Arizona University President Clara Lovett agreed, saying that laws older than one generation need to be further discussed.

"I see a lot of concern about backsliding," she said. "I don't see anyone . . . who is really stepping forward and proposing some new form of affirmative action policies."

Lattie Coor, Arizona State University president, said state schools have a unique policy that encourages diversity without lowering academic standards.

He said all three schools have an "absolute standard" of admission. All students meeting the standards are accepted regardless of race.

Such a policy ensures that everyone has an equal chance, and universities must work harder to recruit a more diverse student population.

The forum included a discussion panel of community representatives, including Raymond Jarvis, head of the National Association for the Advancement of Colored People.

The Society for Applied Anthropology, the Anthropology department College and Social and Behavioral Sciences also hosted the event. The goal was to apply social science to a current issue of the present.