UA forward will sit out next season to focus on graduating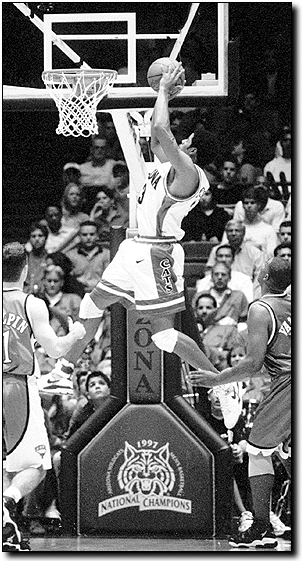 Wildcat File Photo
Arizona Daily Wildcat

Junior forward Eugene Edgerson (33) dunks the ball against Texas Nov. 25 at McKale Center. Edgerson may redshirt next season in order to concentrate on his academics and graduating on time


UA men's basketball junior forward Eugene Edgerson may redshirt next season in order to concentrate on his academics and graduating on time.

On the court, Edgerson is known as a tenacious defender and rebounder; off the court, he's an education major who hopes to teach elementary school someday.

The coaching staff told him not to comment on his future until he is certain of it.

"They just told me to cool off and wait," Edgerson said.

Associate head coach Jim Rosborough is proud of Edgerson, calling him a perfect example of what a student-athlete should be.

"The guy's in line to student-teach and he's taking a real hard academic load," Rosborough said. "He should be applauded."

One option for Edgerson is to sit out next season and then return for the 2000-01 season with his degree in hand. He will meet with head coach Lute Olson and Rosborough before the end of the school year to make his final decision.

"There are a lot of demands in that education program," Olson said. "We need to find out what the limitations will be because we certainly need to have him play.

"You hope when guys come here, they're here to get an education. Gene knows what he wants out of life and is bound and determined to get his degree in four years. I wish everybody would be like that."

One thing that cannot be misunderstood is that Edgerson does not have any kind of academic trouble. He is just not excited about taking a full load of classes, student-teaching and being a basketball player all at once.

"He's a very concerned student and he's done a great job," Rosborough said. "Gene's not in any trouble."

The team will also be without freshman guard Traves Wilson, who is transferring because he was not happy with the playing time he was getting in his first season.

Bryan Rosenbaum can be reached at Brian.Rosenbaum@wildcat.arizona.edu.