UA track team heads to Iowa for Drake Relays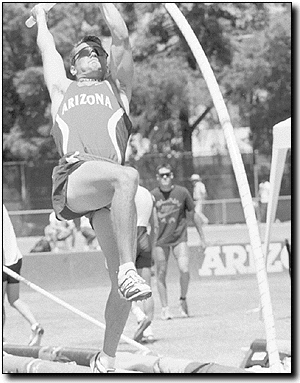 Nicholas Valenzuela
Arizona Daily Wildcat

Pole Vaulter Steve Brown reaches the end of the pole vault runway during Saturday's Arizona Elite Classic. The UA track team will compete this weekend at the Drake Relays in Des Moines, Iowa.


The UA track team will compete this weekend at one of the most renowned track meets in the country, the Drake Relays in Des Moines, Iowa.

The Wildcats will send 23 athletes to compete against collegiate teams from Arkansas, Iowa, Iowa State and Kansas, among others. The meet will also feature professional competitors in selected events such as the men's pole vault.

"We always enjoy going to the Drake Relays," UA head coach Dave Murray said. "The kids get a big rush from running in a stadium that holds 18,000 people."

The Wildcat women will compete in four relay events. Junior Nicole Thomas, senior Shanna Griffin, freshmen Cara Cline and junior All-American Carolyn Jackson complete a strong 4x400-meters relay team. The women will also run the distance medley, the sprint medley and the 4x800m.

The men's team brings a formidable distance medley squad to the race that includes All-American Abdi Abdirahman, UA's 800m record-holder Patrick Nduwimana, as well as junior Micheil Jones and freshman Matt Lea. The men will also run the 4x1600.

Three Wildcat pole vaulters will to travel to Des Moines in search of NCAA qualifying marks. Freshman Mike Mortensen will compete in the collegiate pole vault competition and All-American teammate Jeff Dutoit will vault in the invitational portion of the competition that features both collegiate and professional athletes. Junior Andrea Neary will be the lone vaulter on the women's side for the Wildcats.

Freshman workhorse Brianna Glenn and sophomore Takisha Morgan will compete in the triple jump for the Wildcats.

Junior Tara Flaming, who has been absent from most outdoor competition due to an ankle injury, has battled back and will compete in the high jump for the Wildcats.

On the men's side, the Wildcats will send two high jumpers to the meet, sophomore Keith Varga and junior Warren Peters, who is coming off a season-best jump at the Arizona Elite Classic last weekend.

Two UA distance runners who competed at the Mt. SAC Relays in Walnut, Calif., last weekend will run the longer distances again for the Wildcats this weekend. Freshman Tara Chaplin will run the 5,000m for the Wildcats while junior Jeremy Lyon will look for an NCAA qualifying time in the steeplechase.

"We are looking forward to the meet," Murray said. "I think we have a chance to do really well."

The meet will run all day today and tomorrow.