Living in the lobby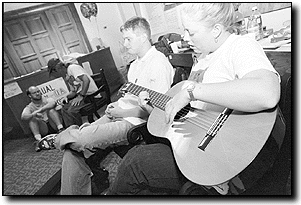 Kristy Mangos
Arizona Daily Wildcat

Sociology senior Val Swan plays the guitar while anthropology sophomore Oliver Deighton listens outside of Likins' office during negotiations yesterday. The protesters say they will stay in the Administration Building until a compromise is reached.


The fortune cookie wisdom taped to the wall in the lobby of UA President Peter Likins' office reads, "You're life's foundation is becoming quite strong."

Taking these words to heart, University of Arizona stu-dents representing Students Against Sweatshops continued their sit-in to its eighth day yesterday.

"The fact that we're still here indicates we have very principled beliefs and we're here to defend them," said sociology graduate student and SAS member Melissa Fry.

Fry, who has slept three nights in the lobby, said the situation has become "normalized," and she has done her best to make herself at home.

"This is where I belong now," she said.

SAS's goal is to convince Likins to sign its workers' rights resolution, which is a list of conditions affecting companies that manufacture university apparel in factories in Third World countries.

The resolution demands all UA licensees publicly disclose the locations of their factories, pledge to pay their workers a "living wage," protect the rights of female employees and conduct unannounced visits to the plants.

Likins' lobby, with sleeping bags, pillows and backpacks scattered amongst water and Snapple bottles, has been functioning as the camp for the SAS protest since a group of 67 stormed the office last Wednesday.

Philosophy and political science junior Diana Rutowski said she has spent five nights in the lobby since the protest began, and that after the first night, sleep came much easier.

Rutowski said the group has been busy with meetings and negotiations for most of the time, but have occasionally strayed into card games and Trivial Pursuit. The group even had a television and VCR for a while.

"This is kind of exciting," Rutowski said, "Everyone seems to know each other - it's a really eclectic, intelligent group."

It always seems like the kitchen is full, Rutowski said, because the group has received many donations. Fry added, though, it has been a "polarized" diet, with fruit on one end of the spectrum and lots of pizza on the other.

Rutowski said people will sleep anywhere, including under the table in the conference room. She said she even took a nap in front of Likins' office door once.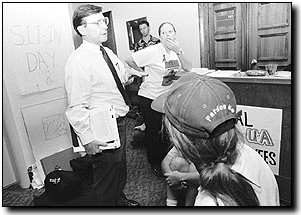 Kristy Mangos
Arizona Daily Wildcat

UA President Peter Likins answers questions about the sweatshop protest situation yesterday. Likins told the crowd that no resolution had had been reached and talks will resume this morning.

Sharon Kha, a UA spokeswoman who has spent most of her time dealing with the protest since it began, said she has stayed three nights in her office, adjacent to the lobby, during the past eight days.

Kha said she has been away from the office for only two six-hour periods and one 12-hour period.

One of the nights, while the protesters were playing drums and chanting, Kha welcomed them into her office and danced and joined in the anti-sweatshop chants.

"I don't think we're on opposite sides," Kha said. "Neither I or the president have a single argument with any of the (SAS) goals."

The protesters are demanding Likins make a change outside the university - over which he has influence, but no authority, Kha said.

The lobby has been crowded at times, averaging about 40 visitors a day and boasting a SAS guest book of 334 names.

Kha said people can be unintentionally obstructive, but all the protesters have been cordial and polite, following their own strict code of conduct.

In the wake of the high school shootings in Littleton Colo. that left 12 students and a teacher dead, Kha's mother had called her because she was apprehensive for her safety.

To ease her worries, Kha brought her 82-year-old mother into the office the next day and had her meet all the protesters and shake their hands.

Sherry Mallory, a coordinator with the Dean of Students' office who has frequently stayed in the office during the protest, said the students have kept the lobby clean and have been polite and conscientious.

"I think it is really exciting to see students so passionate," Mallory said.

She said she has managed to keep working through the protest and that although the first couple of days were a little crazy, things have quieted down since.

The protest has not been without its sacrifices, however. Some activists have been missed classes, and Rutowski said a couple of people have put off graduation to devote time to the sit-in.

Other important things have been neglected as well.

"My dog misses me terribly," Fry said.