UA art museum exhibits to close for lighting renovations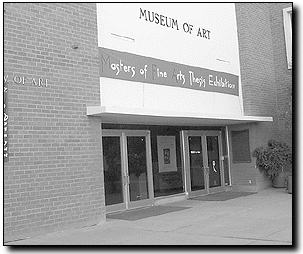 Eric M. Jukelevics
Arizona Daily Wildcat

The University of Arizona Art Museum will close its doors during the summer for renovations and re-open in the fall. Private donations will account for $150,000 of the $200,000 it will cost to fix the building.


The University of Arizona Art Museum will close its doors this summer and re-open in the fall with a modern look even Georgia O'Keefe would appreciate.

Lee Karpiscak, the museum interim director, said aging illumination will be removed from the building and replaced with modern track lighting in the second floor gallery.

"The paintings are going to look ever so different," Karpiscak said. "This is a way to improve how people will be looking at our art. It's going to be quite dramatic."

The museum's Gallego Retablo piece, a series of large painted panels from a cathedral in western Spain, will also see improvement.

The lighting and space limitations have prevented the retablo from being displayed in full as a continuous piece, said Alisa Shorr, the museum information specialist.

"With the planned renovation, we will be able to unify all of the panels so that our audience can gain some better appreciation for the retablo," Shorr said.

The renovations, which are the first substantial remodeling of the building as well as its first extended closure, are scheduled to begin in May and end in October.

About $150,000 of the project, which will cost approximately $200,000, is from private donations. The university is covering the cost of removing asbestos, a known health-hazard, from the 40-year-old building.

Plans for a grand opening celebration are still in the works, Shorr said.

When the improved museum reopens on Oct. 3, Karpiscak is optimistic for a surge of visitors.

"We've had people come in over the years and say, 'Oh, we've already seen the second floor,'" she said. "Hopefully people will hear about the renovations and come back and take a look."