Familiar ground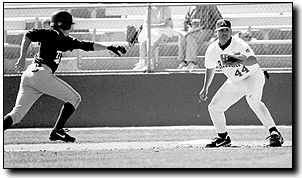 Ian C. Mayer
Arizona Daily Wildcat

UA sophomore first basemen Ernie Durazo gets ready to catch a ball during a game earlier this year. The UA baseball team will face California on the road Friday in Berkeley.


There is no one on the UA baseball team that knows Sixth Street better than sophomore first baseman Ernie Durazo.

From Tucson High School to Frank Sancet Field, he knows the strip like the back of his hand.

"It's really weird," Durazo said. "It's just down the street but it is a different world here. It seems like it is not in the same city. Even the field is a different world."

After lettering four years as a catcher and third baseman for Tucson High School, Durazo went to Pima Community College with the plan of playing one year as an Aztec and then coming to UA to live out his dream of playing college baseball as a Wildcat.

He even turned down the pros after he was drafted by the Seattle Mariners in the 46th round of the 1998 draft.

"A lot of people say, 'Why didn't you stay with the Mariners?' but my thought was that Major League Baseball is my dream and if it happens, it happens. If not I can say I had a great time here," Durazo said. "I always wanted to play college ball. Pro ball will be there, but the college experience was something I couldn't pass up."

The stipulation was that he had to graduate from Pima, and that usually takes two years at a community college.

Durazo was so determined to become a Wildcat that he accomplished the feat in a year and a half and transferred to UA at the beginning of this spring semester.

"We have never had a guy come in halfway through his sophomore year in college. It is quite unheard of," UA head coach Jerry Stitt said.

Durazo earned his degree from Pima while playing baseball and hitting .420 with 12 home runs, earning him all-conference and all-region honors.

Durazo knew he was good enough to play at the Division I level, but he was a little skeptical of how he would be accepted by the team considering he did not play fall baseball with the Wildcats since he was in the process of graduating from Pima.

"He wondered if people would accept him, but that was no problem because the guys took him right in," said Dennis Anderson, UA's junior catcher and teammate of Durazo's at Pima last year. "I think it is real good that we have him on the team because he is a good hitter and now he is finally starting to hit like we all knew he could."

After transferring to UA, Durazo was still not assured a starting spot in the lineup since the Wildcats had just recruited freshman Ben Diggins, one of the top recruits in the nation who was also a candidate at first base at the beginning of the season.

Sophomores Brad Fendley and Josh France were also competing for the job at the time.

"At first I was intimidated because I was at first with these big boys like Diggins, France and Fendley," Durazo said. "But then I started to notice that I was as good as those guys. I was especially intimidated by Diggins. My thought was how are they going to start me over a guy that was offered $1.2 million out of high school?"

Durazo's plan worked out because Diggins became the Wildcats' second starting pitcher and the job is now Durazo's to lose.

With Chris Duncan, who is Canyon Del Oro (Tucson) High School's senior first baseman and brother of UA freshman right fielder Shelley Duncan, on his way to UA next year, Durazo will again face competition for the starting job.

"I think it is better for me that he is coming here because it is my position to lose," he said. "If I knew it was mine, I probably wouldn't work that hard. I was thinking about that earlier in the season, and I said to myself that I have to put up numbers now or they will give the job to him."

That is a situation that Durazo will have to conquer next season, but currently this 5-foot-9 sophomore is making his case as the starting first baseman for years to come for the Wildcats.

He is hitting .331 with three home runs and 34 RBI this season to go along with his .992 fielding percentage as he has only made three errors.

"It was taking a while, but now I am not worried about anything," he said of his adjustment from Pima to UA. "The thing was is that I didn't want to make any mistakes being the new guy and all. I wasn't letting Ernie Durazo be Ernie Durazo. My swing and style was not going to cut it at this level, so I had to fix a lot of things. I feel confident now because I know I am not going to just make contact, I will hit the ball somewhere hard."

Dan Rosen can be reached at Dan.Rosen@wildcat.arizona.edu.