Go, go, Gomez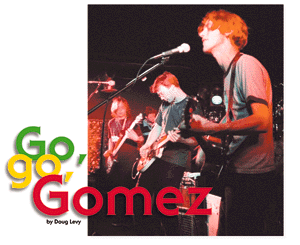 Arizona Daily Wildcat

Gomez rock out on stage in Tempe. The band's latest release, God's Big Spaceship, is out this summer on Virgin Records. Gomez' debut, Bring It On, also on Virgin, is available at your local record store now.


Ben Ottewell is tired. Very tired.

Along with the rest of his bandmembers in Gomez, he has been on the road in America for weeks now, and he's looking forward to a break back home in the UK. He has a little longer to wait, though, as Gomez still have a few more US dates to play before they cross back over the Atlantic. Among these is the evening's show at the Green Room in Tempe.

Just to set the stage: with the release of their debut album, "Bring It On," Gomez threw the UK music world, critics included, for a loop. In a scene dominated by britpop bands, no one was expecting the blues-drenched rock explosion of throaty vocals, slide guitar and Latin-influenced riffs the band caused out in left field.

Soon after, Gomez walked away with the prestigious Mercury Prize, one of Britain's most coveted awards, and sent the music press into overdrive.

Not bad for a bunch of northern lads who had never even played a live gig together when they were signed to Hut Recordings (the same label as the Verve, Embrace, Whale and Placebo) on the strength of their four-track demos alone.

Now, with their second album, God's Big Spaceship, completed and ready for a summer release, Gomez are back in Arizona for the second time, their first time headlining here.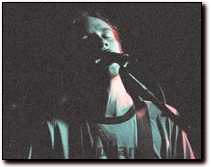 Arizona Daily Wildcat
Gomez' Ian Ball wails away at The Green Room in Tempe.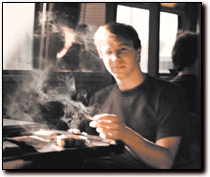 Arizona Daily Wildcat

Here's Ben blackening his lungs.

Ben is sitting on the tour bus looking completely drained when I arrive, but he's still happy to talk about whatever comes to mind. In his T-shirt and glasses, he looks like what your mom might call a "nice, clean-cut boy." It's almost impossible to imagine that the deep-throated blues wail that marks many of Gomez' best songs could come out of this man's mouth.

"I'm not sure there is much of a scene, really, in England," Ottewell is saying. "I don't really pay much attention to it. The britpop thing has kind of fallen on its ass. I'm not really that interested to tell you the truth."

Ottewell's interests lie elsewhere: "I listen to a bit of Los Lobos and things like that. The Latin Playboys, that's been on quite a bit. Stuff like Ben Harper and just loads of stuff from the seventies. I don't really keep an eye on the British music scene. The only thing I'd really suggest is the Beta Band. They're really good."

Increasing Gomez' profile stateside recently was an offer from electronic appliance giants Philips to record a song for a TV ad. Perhaps you've caught it - the featured track is the band's currently sought-after cover of the Beatles' "Getting Better."

"Yeah," says Ben, "what happened was Philips kind of rang us up and said, 'Do you want to cut a Beatles song for this advert?' and we went, 'Yeah, okay.' So we were down near Abbey Road at the time, and we said, 'Well, can we go in Abbey Road [Studios]?' So we just went in there and turned into the Beatles for a day.

"Only, we'd all forgotten the song," he laughs, "and they had to ship the CD down to us. So we literally had to learn the song, record it and mix it in one day, which was a lot of work."

Although the venues Gomez are currently playing here in the US are small, the shows, for the most part, are selling out. As Ottewell remarks, though, it's important to keep things in perspective when considering the American market.

"Well, it's so big," he says, matter-of-factly. "It's a whole different game. I guess it is kind of hard. We're just happy to keep playing. We like to play, so (breaking the US is) not a big priority - it's just doing what we do. A lot of British bands achieve success so rapidly in the UK because of the press there, and it can all snowball quite quickly, then they expect to come over here and do exactly the same thing. But we don't really have those illusions."

Still, even in comparison to their last time in town, supporting Eagle-Eye Cherry a few months ago, the fanbase has increased.

"We've had people singing along which is a bit of a shock," laughs Ben. "That's pretty interesting. I remember the first time that happened in England, we were all a bit taken aback, but a lot of people [in the US] are pretty familiar with us now."

Indeed, later that evening, there are a number of overly excited fans crowded before the stage inside The Green Room, dancing, smiling, and, yes, singing along.

It's definitely the first time I've ever seen a group perform with three guitarists and two drummers. Not to mention three members who all take on lead vocals (Ottewell and fellow guitarists Ian Ball and Tom Gray).

Storming through a set featuring the best of Bring It On, as well as a few new songs and covers of "Not Fade Away," and the Talking Heads' "Road To Nowhere," Gomez has the crowd worked into a complete frenzy by the end of their show.

There's no wild tour stories here, though - no run-ins with the law or shameless womanizing. Just a bunch of lads who get on really well with one another and love playing music. And maybe that's how it should be.