UA program makes technical fields more accessible to disabled students
Correction
Due to a reporting error in the Friday article "UA program makes technical fields more accessible to disabled students," the organization that worked with Program ACCESS to modify UA labs for disabled students was incorrectly identified. The organization is UA architecture class, Architecture 227. The Wildcat regrets the error.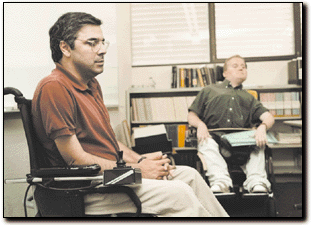 Eric M. Jukelevics
Arizona Daily Wildcat

Engineering graduate students Ali Mehrabian (left) and John Olson (right) discuss Program ACCESS yesterday in the Mathematics Building. Program ACCESS encourages middle school and high school students with disabilities to study math, science and engineering at the UA. The program received a half a million dollar grant from the National Science Foundation.


Ali Mehrabian and John Olson noticed something unusual about their classmates two years ago.

"We wondered, 'why aren't there more students with disabilities in engineering'. We were the only ones we knew of," said Mehrabian, a civil engineering and engineering mechanics graduate student at the University of Arizona.

The two students joined mathematics professor David Lovelock and decided to form a program that encourages disabled students to become engineers, mathematicians and scientists.

With a $450,000 grant from the National Science Foundation, they started Program ACCESS last semester. The program offers mentoring to 10 students.

Mehrabian said a heavy course load is even more difficult for students with disabilities. He needs three hours to get ready every day, which makes for early mornings when he teaches his 9 a.m. class.

One of the students in the program also felt scheduling pressures, Mehrabian said.

"He was overwhelmed last semester. We were there for him, telling him 'look, this is what everyone goes through,'" he said.

Program ACCESS also provides outreach projects and grants to southern Arizona's middle and high schools, he said.

Grants to science teachers and visits by Mehrabian and Olson are meant to encourage disabled schoolchildren to consider science as a career choice, Mehrabian said.

"We show them neat things, things that make them say 'wow,'" said Olson an electrical and computer engineering graduate student.

This June, the program will be hosting a free summer camp, with spots for up to 30 disabled students.

The camp will offer a chance to meet UA scientists and learn about their research through field trips to campus labs, Olson said.

Georgia Ehlers, coordinator of grant and scholarship management for the UA graduate college, said the program has worked with an architecture firm to make campus laboratories more accessible for wheelchairs.

"There's lots of terrific regulations, but they don't necessarily help individuals," she said.

While ramps allow access into buildings, other barriers like low desks or inconvenient switches can make work difficult, she said.

Ehlers said that the UA science community has been very responsive to the program, with many professors volunteering their time.

"We have terrific input from all across the campus," she said.