Rec Center lawsuit moves to Tucson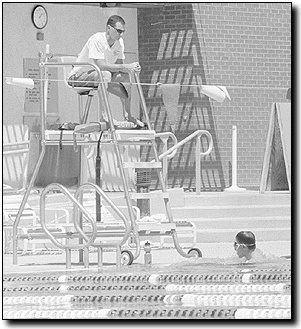 Jennifer Holmes
Arizona Daily Wildcat

Mechanical engineering senior Andrew Liston watches swimmers during an open swim Monday afternoon at the Student Recreation Center pool. A lawsuit has been filed against the UA by a former student who nearly drowned in the pool.


A lawsuit filed against the UA by a former student who nearly drowned in the Student Recreation Center swimming pool was scheduled to go to trial later this year, but its transfer to Pima County Superior Court will cause a delay.

The suit, originally filed in Maricopa County Superior Court in November 1997, alleges that the University of Arizona Rec Center staff was at fault when Maryam Kavoosi nearly drowned during the afternoon of Nov. 7, 1996.

The suit seeks unspecified damages for pain, suffering, disability and future medical care and claims the UA, the state of Arizona and the Arizona Board of Regents were negligent because Rec Center staff did not properly monitor the pool or provide prompt life-saving care.

Police said it appeared Kavoosi had been holding her breath underwater and then stopped moving. Lifeguards pulled her out of the pool and started CPR before she was taken to University Medical Center in an unconscious state.

Kavoosi's attorney, Thabet N. Khalidi, said Kavoosi was in a coma for about a month and sustained permanent injuries.

"There seems to be some lingering neurological damage," Khalidi said.

The case was set to go to trial in Maricopa County Superior Court this September, but Kavoosi separated from her Phoenix attorneys. Court documents stated the split was due to "irreconcilable differences in terms of the management of the prosecution," but the exact cause was kept confidential.

Kavoosi then hired Khalidi, who said he changed the venue for the sake of convenience.

"Per Arizona statute, all lawsuits against the state have to be filed in Phoenix," Khalidi said. "That's a statute routinely ignored because it just doesn't make sense to have a case take place in Phoenix when all the parties are in Tucson."

New attorneys also took over the state's defense, delaying the trial until everyone could get up to speed, Khalidi said. He added that attorneys will not be ready for trial for at least a year.

Khalidi refused further comment about the suit, which also alleges that Rec Center staff were not properly trained and had no procedure in place for such an incident.

"The pleadings generally speak for themselves," he said. "Expert witnesses have reviewed the case before the suit was filed. We conducted a thorough investigation before filing the lawsuit."

Similar issues of negligence arose in a lawsuit the UA faced a few months before Kavoosi's mishap.

In February 1996, a Maricopa County jury awarded former UA student Stacy Spiegler $5 million for injuries she suffered after collapsing on a stationary bicycle at the Rec Center in 1990.

Jurors in that case said after the trial that Rec Center staff was inadequately trained and negligent in not performing CPR. Spiegler's attorney argued that immediate CPR might have prevented brain damage.

The Rec Center has been keeping more precise records of its employees' training since the Spiegler lawsuit, said Juliette Moore, director of campus recreation.

She said employees must complete first aid and CPR certifications before they can work at the Rec Center. Lifeguards also must obtain certification.

"All of our procedures and everything have been tightened and heightened," said Moore, who has been director of the department about two years. "That's been a priority since I arrived."

She said she believed Kavoosi's rescue was handled successfully because the heightened measures were in place.

"Our policies and everything were in good order when that occurred, so we didn't have anything to be ashamed of in that one," Moore said.

UA attorney Michael Proctor refused to discuss either case, saying the university does not comment on pending litigation.

Moore said she is always monitoring trends and keeping tabs on other facilities to come up with ideas.

"We could always improve," she said. "We're always looking for ways to make it better."