UA women sweep ASU and NAU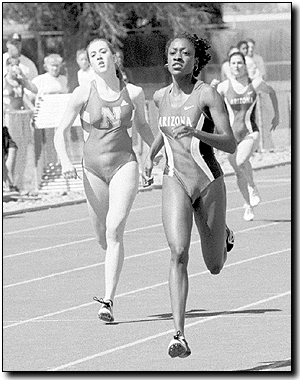 Nicholas Valenzuela
Arizona Daily Wildcat

UA junior Carolyn Jackson runs down the final straight-away during a meet at Drauchman Stadium earlier this season. Jackson ran an NCAA automatic qualifying time in the 400-meters of 52.10 seconds this weekend in Tempe.


The UA women's track and field team beat their in-state rivals this weekend in Tempe, taking Arizona State by 102-82 and trouncing Northern Arizona 104-79.

The UA men were edged by Arizona State 101-95 and Northern Arizona 99-96.

"Overall we had exceptionally good meet," UA head coach Dave Murray said. "We had an unbelievable number of personal bests and NCAA qualifying times."

Junior Carolyn Jackson ran an NCAA automatic qualifying time in the 400-meters. Her time of 52.10 seconds was the second-fastest in school history and the No. 3 collegiate time in the nation this season.

Freshmen Brianna Glenn once again proved to be the workhorse for the Wildcats, winning two events and placing second in another. Glenn won the 100m in 11.68 and tied her best mark of the season in the long jump with a winning leap of 19-feet, 10 1/4 inches. Glenn finished second in the triple jump to sophomore teammate Takisha Morgan, who won the event with a mark of 39-7.

The UA women swept the top three spots in the hammer throw. Freshman Maureen Griffin won the event with a toss of 178-6, while junior Mandy Shefman and senior Sarah Seronde finished second and third.

Junior Nicole Thomas ran a personal-best time of 58.61 in the 400m hurdles to win the event. Junior Andrea Neary cleared an NCAA provisional vault of 11-7 3/4 to win the pole vault competition.

Freshman Jennifer Burris shattered her personal best in the 1,500m by almost five seconds, winning the event in 4:30.52. Freshman Tara Chaplin turned in a second place finish in the 3,000m, running an NCAA provisional qualifying time of 9:37.78

The men's distance runners dominated the 5,000m, sweeping the top five spots. Senior Abdi Abdirahman ran an NCAA provisional time of 13:54.34 to win the event. Abdirahman was followed by junior Brent Pedersen, sophomore David Lopez, freshman Mike Cramer and junior Jeff McLarty. Pedersen and Lopez earned Pacific 10 Conference qualifying times.

"We were a little short-handed because of injuries on the men's side but a lot of guys came through and did some very good things," Murray said.

Other performances of note for the men included sophomore Patrick Nduwimana's win in the 800m with a time of 1:49.64 and freshman Matt Lea's Pac-10 qualifying time in the 400m.

Freshman Mike Mortensen won the men's pole vault with a mark of 16-4 3/4. Mortensen's vault tied his best mark of the season.

Sophomore high jumper Keith Varga also stepped in to qualify for Pac-10s in an event he hasn't competed in this season, the hurdles.

The Wildcats resume competition when they host the Wildcat Qualifier this Saturday at Drachman Stadium.

Brian Wahlund can be reached at Brian.Wahlund@wildcat.arizona.edu.