Benefits improve for disabled UA workers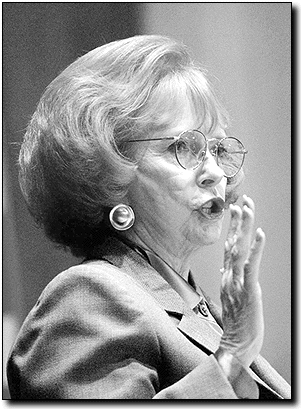 Wildcat File Photo
Arizona Daily Wildcat

Gov. Jane Dee Hull She signed a disability benefits bill into law yesterday.


A UA staff member won a three-year battle with the state Legislature last night when Gov. Jane Dee Hull signed a disability benefits bill into law.

Janolyn Lo Vecchio began pushing for an amendment to the Arizona State Retirement System when she became disabled and realized that her benefits were reduced because of her disability.

She researched the program for a year and discovered an "oversight" in the system's design.

After years of gathering information and pressuring state senators, Lo Vecchio gained enough support to change Arizona law - something she wasn't sure was possible.

"If you don't fight, you're just giving in," she said. "I can now start the rest of my life."

Lo Vecchio said she had doubts that she could change the law because of her health problems and lack of political experience.

At 41, she was diagnosed with a fairly common neuromuscular disease called myastheniagrabis, and because of a flaw in the retirement program, lost some of her benefits.

Under the previous law, an Arizona worker, who begins before the age of 30 and becomes disabled, faces five more years before being eligible for retirement, losing a percentage of the benefits as a result.

The 12-year-old ASRS program uses a system of service points - a combination of age and years of employment - to determine when a worker can retire.

When a worker is disabled, the amount of points one can receive from years of employment is capped at 25, making the retirement age five years later for workers who are hired young and then become disabled.

Lo Vecchio, a UA administrative secretary, took it upon herself to change the law after discovering the discrepancy.

She initiated SB 1291, which was sponsored by a number of Democratic legislators, including Sen. Victor Soltero from Tucson. The bill passed the Senate unanimously and went through the House of Representatives 39-19.

A press spokesperson from Hull's office said the governor yesterday signed the bill that "increases the maximum amount of service years that may be accrued toward retirement from 25 years to 30 years."

While it is a seemingly small provision of the retirement plan, it took three years to pass and allows Lo Vecchio to begin focusing on her health instead of politics.

"I was in there because I felt I was working for these other (disabled) people," she said. "They can fight bureaucracies."

At one point, she said, her father warned her about her illness and encouraged her to stop pushing the bill.

While Lo Vecchio said she learned a lot about the political system from her experiences with SB 1291, her days of fighting the law are done.

"I plan to spend my time now taking care of my health," she said.

UA Faculty Chairman Jerrold Hogle expressed strong support from the Faculty Senate. He said senators have backed Lo Vecchio's efforts since she began.

"We were in support of this over a year ago," he said. "It's a tribute to Jan's efforts - that teaches us all a great lesson."

Hogle added that the faculty supports the legislation because it affects all employees and their rights.

"We are delighted with this," he said. "I think it's long overdue."