In the midnight hour...
By Eric Swedlund
Arizona Daily Wildcat
May 5, 1999


Send comments to:
letters@wildcat.arizona.edu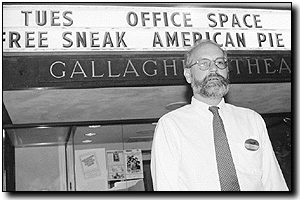 Ian C. Mayer
Arizona Daily Wildcat

Gallagher Theatre manager Bill Fannin stands in front of the building yesterday evening as crowds filed in for "Office Space". "Can't Hardly Wait" will be the last midnight movie shown at Gallagher tomorrow before the student theater is demolished in July.


The final midnight movie will roll tomorrow night at Gallagher Theatre, ending a campus tradition older than "The Breakfast Club" and "Say Anything."

The teen flick for the 1990s, "Can't Hardly Wait," will be the last movie shown at 12 a.m. Friday in the 28-year-old theater before it faces the wrecking ball in July.

"It is literally right before finals, but it's a fun movie, something nice and light and I am hoping people will come out and enjoy it," said Bill Fannin, Gallagher Theatre's manager. "I'll miss it."

Presented in part by the University Activities Board film committee, the free movie will follow a complimentary breakfast in the Union Club, beginning at 10:30 p.m.

"If you've lived on campus, the Gallagher is an institution," said Richard Busch, UAB's film chair. "People go more for the experience than for the movie."

Fannin said the midnight movie has existed throughout the nearly 30-year history of Gallagher, although it has not always been popular.

With the resurgence in popularity of the 1980's "Brat Pack" movies, Fannin said the midnight movie made a comeback during the last five or six years.

"Students look forward to the midnight movies," Fannin said. "As a residence life function, it is a perfect time to go and have fun as a group."

Before Gallagher was built, Fannin said the auditorium in the Social Sciences Building functioned as a student theater.

Officials have formed tentative plans to relocate Gallagher activities to the auditorium during the Student Union's construction, and Fannin said he would like to continue with the tradition of the midnight movie.

Students routinely recite lines along with the midnight movies, because they are such popular films, Fannin said.

A few years ago, one student brought a mannequin with him to a show, and refused to enter the theater without it. So he bought a ticket for his "date," and plopped her in a seat next to him.

Creative writing graduate student Arnie Niekamp called the Gallagher midnight movies "the best deal in town."

"It's a rite of passage," he said.

Echoing Niekamp's sentiments was fellow creative writing graduate student Robin Braudwell.

"It's really a community and I think it is a good way to end the semester by commemorating the end of Gallagher," she said.

After "Can't Hardly Wait," Gallagher will show "Elizabeth" from Friday through Tuesday, before closing forever with a free showing of "Cinema Paradiso" next Wednesday.

"I hope we can fill every seat," Busch said.