UA looks for sweep against ASU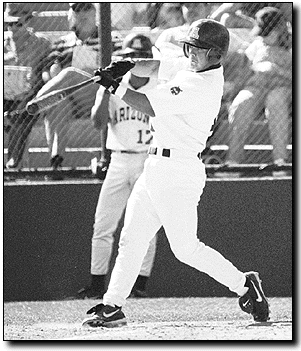 Ian C. Mayer
Arizona Daily Wildcat

Infielder Keoni DeRenne (11) takes a swing during a game earlier this season at Sancet Field. The 31-20 Wildcats will play a series against the Arizona State Sun Devils May 14-16 in Tempe.


The UA baseball team suffered a setback last weekend when it only managed to come home with one victory in three tries at California.

It was a setback, but they realize that they can bounce back from the two losses.

"The good thing is yes, we are able to rebound," sophomore shortstop Keoni DeRenne said. "It was just one of those weekends. We didn't hit well, we pitched good enough to win, but unfortunately you need to swing the bat well. We didn't do enough offensively of what we're capable of."

The Wildcats (31-20 overall, 11-10 Pacific 10 Conference) will hit I-10 West May 14 en route to Tempe to take on the Arizona State Sun Devils at Parker Stadium, in what could be the defining moment of the 1999 season.

If they have a good showing against the Sun Devils, the Wildcats are almost assured a spot in the NCAA Tournament for the first time since 1993.

Most likely it will take one or two victories against ASU to assure UA a spot. But according to the Wildcats, the Sun Devils are their rivals and they don't even want to consider losing to them.

"I say to definitely secure a spot, we'll need the three wins," DeRenne said. "For us to feel like we deserve it we need to sweep ASU, not just because that's what they say we have to do, but for our confidence to carry over into the postseason."

Members of the coaching staff back DeRenne's ideas on the importance of this series.

"Every series in the Pac-10 is important," UA associate head coach Bill Kinneberg said. "This one is important, but so were the last three games. This is definitely important for our chances."

The Wildcats have already faced the Sun Devils in a three game series at home preceding the Pac-10 season. They defeated ASU 9-8, but then lost 11-9 and they got pounded in the third game 18-3.

"I don't know if it's a help for just us because it actually helps both teams," Kinneberg said in regards to the previous meeting. "They know our personnel and we know them. It comes out to be an even deal."

The Wildcats will be searching for their offense, which was invisible in the last series at Cal when they managed to score only eight runs while giving up 17 in the series.

Lack of offense could sometimes lead to frustration amongst the pitching staff, but Kinneberg said that was not a problem with this ballclub.

"There is no division in any way," he said. "It is a team effort. If you win 15-14 you're happy and if you win 3-2 you're happy."